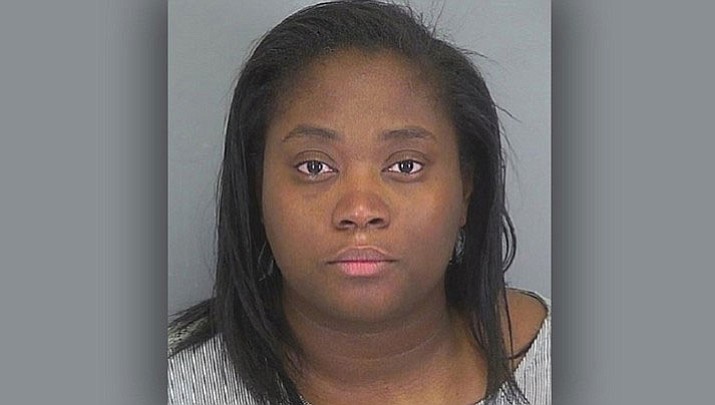 Originally Published: May 16, 2017 5:55 a.m.
SPARTANBURG, S.C. (AP) – Police in South Carolina say a woman has been arrested for hitting her young son after he gave a Mother's Day card to his grandmother but not to her.
A Spartanburg Police Department report says Shontrell Murphy is charged with cruelty to children for hitting her son on the head Thursday. His age was not given. He was treated and released from a local hospital.
According to the report, the boy's sister told police that Shontrell Murphy hit the boy hard because he gave his grandmother a card but not her. She then tore the card up.
Police say Shontrell Murphy has been released from the Spartanburg County Detention Center. It wasn't clear Sunday if she has an attorney, and the number listed on the police report wasn't working.
Man thanks iPhone's Siri for saving his life in explosion
WILMOT, N.H. (AP) – A New Hampshire man who was injured in a house explosion is thanking Siri for saving his life.
Christopher Beaucher says he was checking on his mother's vacant cottage in Wilmot on May 1 when he saw something suspicious and went inside.
He tells WMUR-TV when he switched on a light, the house exploded.
"The whole place caught fire," Beaucher said. "Part of it collapsed while I was in it during the initial explosion, so I couldn't really tell where I was."
Beaucher's face and hands were badly burned. He grabbed his cellphone but was unable to dial because of his injuries. He says he somehow asked his iPhone's voice-controlled virtual assistant Siri to call 911, believing he was going into shock
A spokeswoman for Apple said Monday that statistics on Siri being used for emergencies weren't available, but noted some recent emergencies in which it was used. Those include three boaters off the Florida coast in April who used the water-resistant phone when their craft capsized; a 4-year-old boy from London who used his mother's thumb to unlock her iPhone and called Siri after she collapsed at home in March; and a man in Vancouver who collapsed, became paralyzed, and was able to use his tongue to use Siri.
Beaucher is undergoing treatment for his injuries and says he hopes to return to his job as a cook and tend to his farm.
"I'm very, very, extremely lucky to be alive," he said.
The New Hampshire state fire marshal's office is investigating the explosion.
British WWII veteran, 101, breaks skydiving record
LONDON (AP) – A 101-year-old D-Day veteran has become the oldest person in the world to skydive.
Bryson William Verdun Hayes completed a tandem skydive from 15,000 feet with members of his extended family on Sunday at an airfield in Honiton, southwestern England.
Among those jumping were Hayes' son, grandson, great-grandson and great-granddaughter.
At the age of 101 years, 38 days, Hayes broke the Guinness World Record held by Canada's Armand Gendreau, who jumped in 2013 at 101 years, three days.
When he landed, Hayes said he was "absolutely over the moon" at the achievement. The jump raised money for the Royal British Legion, a veterans' organization.
Hayes said he had wanted to try skydiving when he was 90, but was talked out of it at the time by his late wife. He jumped for the first time last year at 100.
Hayes served in the British Army during World War II, and was awarded France's Legion of Honor for his heroic actions.
'Sting' operation leads to recovery of stolen bees
GREAT FALLS, Montana (AP) – A Montana beekeeper has recovered hives that were stolen from him in California, thanks to an agricultural sting operation.
Lloyd Cunniff of Choteau reported 488 hives stolen in January, after he had transported them to California for the almond pollination season.
A tip led Fresno County authorities to find stolen hives worth $170,000 in a rented bee nursery space, a cow pasture and hidden in a drainage along a freeway.
Fresno County Detective Anders Solis, member of the county's agriculture crimes task force, says there were 10 victims in seven California counties in all.
The Great Falls Tribune reports Cunniff got most of his bees back last Sunday. He says he is keeping the recovered hives in a separate field in case they are infected with disease or mites.
Calf born at North Dakota ranch has 2 extra limbs
BEULAH, N.D. (AP) – A calf was born with an extra set of limbs but seemingly healthy at a North Dakota ranch.
Rancher Gerald Skalsky said he was surprised when the calf was born Wednesday with two small limbs hanging off one side of its neck. Skalsky, whose ranch is south of Beulah, notes the condition isn't fatal.