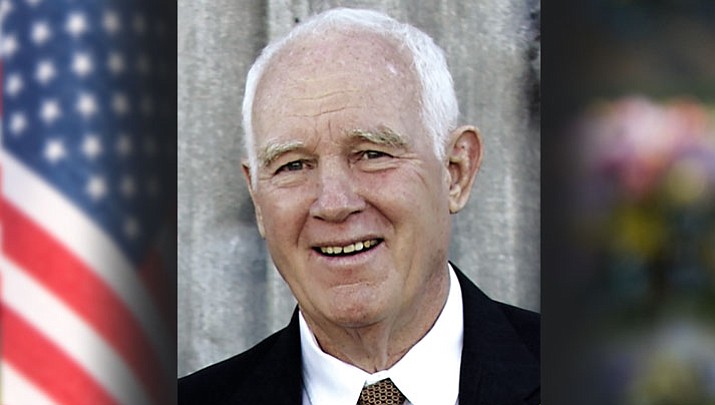 Originally Published: May 17, 2017 6 a.m.
Ronald Henry Hall, age 77, of Chloride, passed away May 10, 2017.
He was born April 13, 1940, in Kingman to Ellen Bacon and Kenneth Hall and grew up in Chloride, where his father was a miner in the Tennessee Mine and his grandfather, Jacob Henry Hall, had run a trucking business.
Ron attended some college in Moscow, Idaho and served in the U.S. National Guard Special Forces as a paratrooper and jumpmaster.
He married Linda Browning in Pocatello, Idaho in 1966; they moved to Salt Lake City, Utah in 1969. Both were very dedicated to raising their children to be confident, caring people.
Ron was a wonderful father to his four daughters and loved watching their unique personalities blossom. As a volunteer coach for his daughters' soccer teams, he provided inspiring guidance to many more girls.
Ron embarked on a career in the concrete industry, working in labs and in management positions before running his own successful concrete business in Salt Lake City for many years providing technical consulting and selling additives. He was an incredibly hard worker, who often drove others to give their best as well.
His curious, open mind was interested in almost everything, particularly history, metallurgy, rocks, solar and wind technology, and art. He was that rare combination of inventor and craftsman who could turn ideas into reality.

In 1997, Ron left for a life changing, six-month bicycle trip in Europe where he met his German-born wife, Irene.
They rode their bicycles coast to coast across the United States in 1999 and continued to go on self supported bicycle tours: around the Great Salt Lake in 2002, and a 2005 tour all over Idaho, towing their 30-pound dog, Ginge,r in a trailer.
Their 2010 epic journey to Montana, Idaho, and Washington included a jet boat ride up Hells Canyon with the bicycles tied to the transom of the boat.
Ron and Irene lived in Salt Lake City, fostered homeless animals for the Humane Society of Utah, and created a beautiful garden that was a popular drive-by attraction during tulip season.
Ron and Irene retired to Chloride in 2011, where he loved to ride his fat tire bicycle in the desert with the dogs, Ginger and Nellie, reported the weather to national databases, and continued to invent and build while volunteering for the Chloride Water District and the Chloride Historical Society. He was very social and started a morning coffee group.
We'll miss his warmth and his great sense of humor forever. Ron is survived by his wife, Irene; his daughters, Sue Hall, Sydney Dawn "DJ" Hall, Christy (Trevor) Hoffman, and Lara (James) Moberg; nine grandchildren; four great-grandchildren; sister, Sandy Schoenrock; brother, Jay Combs; and former wife and friend, Linda Browning Hall.
His ashes will be scattered in the Cerbat Mountains near Chloride, the place he loved most.
Celebrations of his life will be held at a later date both in Chloride and in Salt Lake City.
"Practice random kindness and senseless acts of beauty."