Originally Published: May 19, 2017 6 a.m.
KINGMAN – Kingman High's Jonathon Hunt almost couldn't believe it when he found out about being named the Barry Honsinger Most Inspirational Athlete.
"It was a surprise," Hunt said. "They told me before a game started one day and I was like, 'Oh okay, wow.'"
Hunt received official recognition for the award Wednesday at Kingman High's Seniors Awards ceremony when KHS Athletic Director John Venenga gave a brief speech.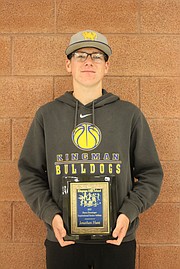 "Barry was stricken with cancer during the winter of his freshman year," Venenga told a packed auditorium at Kingman High School. "He fought it for a year and a half and inspired us with courage and a never ending smile. It's within that spirit that we remember tonight's award winner."
Hunt lived up to the characteristics of Honsinger, highlighted by riding his bicycle to early morning practices.
That wasn't all Hunt did though, as he continued to be a team player and make a difference while averaging 5.2 points and 1.8 rebounds per game.
"I just kept trying my hardest to get better," Hunt said. "Every practice I just tried harder."
Hunt was also on the baseball team, but didn't see a lot of playing time. That doesn't mean he won't cherish his time as a Bulldog.
"I'll remember this award plus the friendships," Hunt said. "Everything together is really nice. I'm hanging the award on my wall, definitely."
Hunt went on to say he plans to attend Mohave Community College and then save up money for Northern Arizona University.
Anthony Pinto and Cheri Roundy were also honored Wednesday night as Most Valuable Senior Athletes.