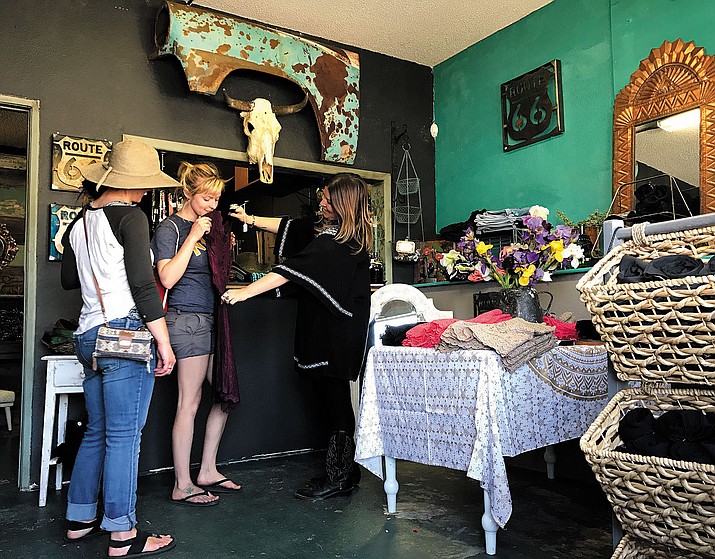 Photo by Aaron Ricca.
Originally Published: May 19, 2017 5:55 a.m.
KINGMAN – Andrea Young was part of a successful downtown business district in Riverside, California, near her hometown of Corona, and sees the same potential for downtown Kingman.
That's why she opened Southwest Trading Co. in April at 228 E. Beale St., a block of once dilapidated and crumbling buildings that's making somewhat of a comeback.
The new business is having its ribbon-cutting ceremony through the Kingman Area Chamber of Commerce at 5 p.m. Monday with treats, beverages and drawing for a $50 gift card.
Young owned a business with her mother in Riverside selling Annie Sloan chalk paint, but got fed up with the traffic of Southern California and wanted to be more in control of her business investment, she said Wednesday as customers popped in and out of her store.
"I know what it takes, and I can see the potential here. It's about to explode and take off," she said.
Her 500-square-foot shop is filled with new women's apparel, handmade jewelry, vintage jackets and accessories, essential oils and soaps and artwork like the Chevy Nova hood with a Route 66 emblem sculpted by local artist Gregg Arnold. He also made the metal Southwest Trading Co. sign attached to the outside of the store.
Young painted and stenciled four clothing racks that she bought for $20 from Hastings when it closed. One of her friends built a tight dressing room in the store out of old wood, including a piece with a Texaco Motor Oil sign from decades past.
The exterior of the store blends in with a mural commissioned by local businessman Scott Dunton, in conjunction with the Route 66 Association of Kingman.
"I think it's important that people start cleaning up our buildings," Young said. "Nobody else is going to do it. It's a huge deal right now that this block is starting to get dressed up. We want to make the 200 block (of Beale Street) come alive."
Tim Burrows of Valle Vista said he loves seeing the progress being made in downtown Kingman, including the opening of Southwest Trading Co. He and his wife bring their out-of-town guests to shop and dine downtown.
"Anything to bring people to this part of town. My wife and I come down often. What a great place to come down and have a glass of wine, and there's pizza next door," Burrows said.
Young came to Kingman a little over a year ago to help her boyfriend work on his father's home in Golden Valley.
"I could breathe out here," Young said. "I could see the sky and the people were kind. I've never experienced a community like that. I've met some of the best friends of my life. It's been that healing for me."
She was able to start her business within a year.
"That's something you can't do in California. It's way too expensive," she said. "I can buy a home here … just the quality of life. I walk into Black Bridge Brewery and everyone says 'Hi.'"