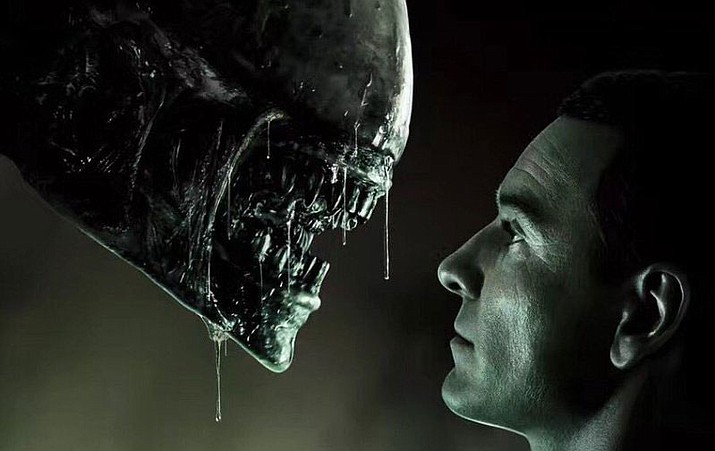 Originally Published: May 22, 2017 5:55 a.m.
Alien: Covenant" is a refreshing origins story, but a plot disappointment.
For fans of every installment, sequel and prequel to the original "Alien" movie that debuted in 1979, director Ridley Scott finally provides the detailed origins of the alien species. From the Internecivus raptus, xenomorph or Linguafoeda acheronsis, neomorph, protomorph, Deacon, and newborn – the birth of each of the Academy Award winning beasts is revealed in "Covenant."

Since Sigourney Weaver's rise to fame as "Alien" heroine, Ripley, no other character in the franchise has managed to take her crown for fan affection or creative alien killing strategies. So it remains with "Covenant."
The entire crew is dispensable and the only shining star is Michael Fassbender who reprises his role as David from "Prometheus," but also plays David's successor, Walter. Subtle cues exist between David and Walter such as tousled hair versus neat, slick and parted, and an American accent versus a British accent. Oh, and of course, one is sinister and one is affable. Fassbender manages to imbue both characters with equal yet differing passion and wit. It's an understated performance that will be sure to please fans of "Prometheus."

Fassbender's David is integral to the alien origin story. For fans of the franchise, it is a deliciously unexpected story that will satisfy the nearly 40-year itch for the species beginnings. However, that is where the brilliance of "Covenant" ends.

The plot is horribly and insultingly predictable: Oh no, the starship with 2,000 colonists and crew in cryo-sleep gets damaged during its journey. Oh no, the synthetic android has to wake the crew. Oh no, the ship can't make it to the destined planet and must land on an uncharted planet that has an atmosphere like Earth. Oh no, the incompetent extras who are in the exploration party disturb some planetary vegetation and get infected. Oh no, aliens are bursting from chests and backs! How will they ever get off the planet and back to the starship to save humanity? Yadda yadda and so forth.
Action Fans: This is a great popcorn movie with wonderful special effects. Ridley Scott never fails on action, effects and blasting beasts. There is plenty of that. Unfortunately, you really may not care about any of the characters … or the plot.
Alien Fans: Your questions are finally answered! However, you may wonder why one seemingly new alien was reminiscent of Mr. Gray in his tall, pale alien body from "Dreamcatchers." That question may go unanswered.

3 out of 5 Xenormorphs
More like this story