Photo by Beau Bearden.
Originally Published: May 22, 2017 6 a.m.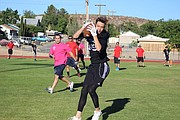 KINGMAN – The Lee Williams High School football team knew Saturday would be a fun-filled affair, highlighted by a 7-on-7 against local firefighters at the annual spring game.
The Vols, however, didn't anticipate facing a 21-0 deficit before Cody Ferrin caught a touchdown pass to get them on the scoreboard.
"They're really good for being way older than us," Ferrin said of the firefighters. "I didn't expect them to be that fast, but it was a fun opportunity to get out there and be able to play against these guys."
The feeling was mutual for Kingman Fire's Dustin Osborn, a 13-year fire service veteran.
"It's good that we can come help out these guys," Osborn said. "Anything to help the community."
Osborn and six other firefighters could be found warming up in one of the end zones Saturday prior to the start of the 7-on-7. The firefighters didn't let their numbers stop them though, as Osborn scored the first touchdown of the contest.
"It was good," Osborn said. "I wasn't expecting the ball, but it came to me. So I tried my best to catch it."
While Osborn obviously enjoyed putting points up on the scoreboard, that wasn't what he took away from the spring game.
"It's a good bonding experience," he said. "Most of us all played high school sports. We can come out and teach the young guys some stuff."
That's exactly what the firefighters did, as the Volunteers saw some areas where they can make improvements.
"We can take our mistakes and learn how to fix things off of those," Ferrin said. "Not drop as many passes, get our passes down towards our chest and catch everything that hits your hands, basically. You have to catch everything that goes to you."
Ferrin also talked about how surprised he was to see the talent of a familiar face. That didn't stop him from finding a weakness though.
"I know one of them, Travis, I didn't think he was going to be that quick, but he was a lot bigger and a lot stronger than I was," Ferrin said. "You just have to quicker than they are off the line and use your space that they give you."