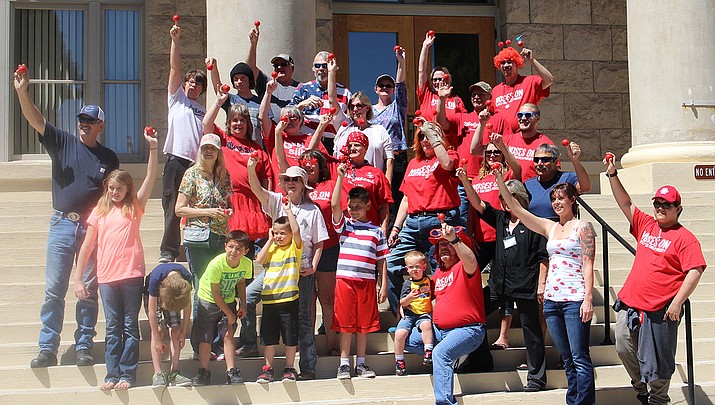 Photo by Hayden Merrill.

Originally Published: May 23, 2017 5:55 a.m.
KINGMAN – Kingman residents showed support for a worldwide organization by sporting a few red noses Sunday. These noses are a representation of Red Nose Day, which is dedicated to fundraising efforts for the charity organization Comic Relief.
Red Nose Day was conceived by Comic Relief in an attempt to raise funding to end child poverty.
"Red Nose Day brings people together to have fun, raise money and change the lives of kids who need our help the most," the Red Nose Day website says.
It is safe to say that Red Nose Day has become a widespread effort with the organization aiding impoverished children in all 50 states as well as 25 countries around the world.
Although the official Red Nose Day will not take place until this Thursday, a handful of Kingman locals came together to show their support for the organization. Those who wished to show their support met at the Kingman courthouses to snap a quick photo while showing off their red noses.
"We want them (Comic Relief) to know that Kingman supports the end to child poverty," said the organizer of the event, Vicki Buckholz.
The red noses worn by the group were all purchased at one of the local Walgreens stores with proceeds going to help the organization. Mike Homan, the manager of Walgreens said that his store "appreciates Kingman's support" as they help raise donations for the fundraiser.
Along with donations and red nose purchases made at Walgreens, those who wish to donate to the cause or learn more about Red Nose Day can visit the website rednoseday.org.