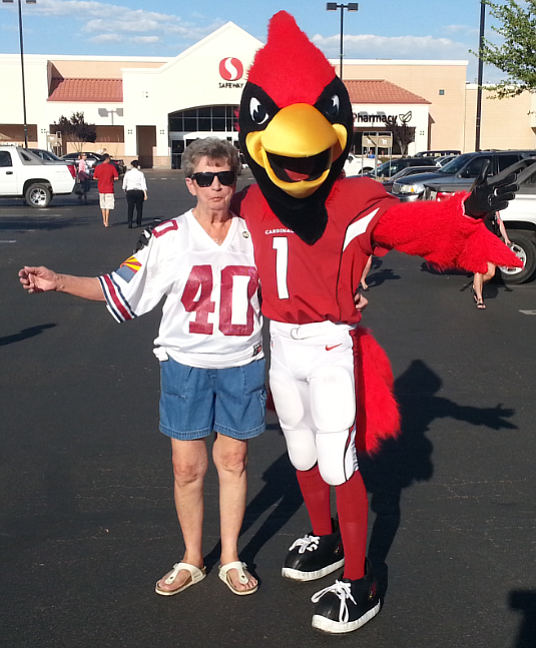 Originally Published: May 24, 2017 6 a.m.
Rose Marie Rosencrans, 80, passed away on May 16, 2017, with family by her side. She was born August 30, 1936, to Joseph and Mary Yarina, in West Wyoming, Pennsylvania.
After graduating high school, she earned her nursing degree from Nesbitt Memorial Hospital. She married Clinton Rosencrans in 1957. In 1959, they moved to Kingman, Arizona. Then in 1966, she began working at Mohave General Hospital and continued her nursing career until retiring from Kingman Regional Medical Center in 2009. During her 40-plus years there, she helped deliver and care for many newborns and their mothers. She touched many lives with her loving heart and caring hands.
Rosie was an avid sports fan and held Arizona Cardinal season tickets for many years. She enjoyed bowling, playing bingo, and going to concerts. What she enjoyed the most was spending time with friends and family, whether it was at a football game, Elks Lodge, or at her kitchen table.
In 2005 she received the Andy Devine Award for Lifetime Achievement, which she treasured.
She was preceded in death by her husband, Clinton; her brother, Johnny; brother-in-law, Red; and son-in-law, Sparke.
She is survived by her sister, Johanna; sister-in-law, Adele; daughters, Raycene, JoAnn (Kenny), and Andrea; grandsons, JJ (Tiffany), James, John Oscar (Melissa), Michael (Suzana), Sean (Kendra), Morgan (Tori) and Toby; great-grandchildren, Autym, Sean, Oreauna, Olivia, Matthew, Ryan, and Michael Caden; niece, Marianne (John); nephews, Joey (Beth) and Ronnie; great nephews, BJ (Bridgett) and Brian (Shelby); and great great nephews Kaden, Nikoli and Brennon.
There will be a Celebration of Life from 1-5 p.m. Sunday, June 11, at the Kingman Elks Lodge, 900 Gates Ave.
In lieu of flowers, donations may be made to the Joan and Diana Hospice House, 812 Airway Ave., Kingman, AZ 86409.