Originally Published: May 24, 2017 6 a.m.
About one in five 8th graders in Arizona say "it would be cool" to belong to a gang, according to the 2016 Arizona Youth Survey of more than 57,000 students statewide. The same goes for 17 percent of 10th graders, and 13.1 percent of 12th graders.
Teens' growing use of social media may be contributing to interest in gang activity.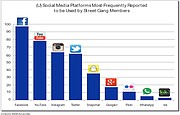 "The dangers have increased exponentially," said Phoenix Police Sergeant Vincent Lewis. "We continue to encourage parents and caregivers to have an active role in their child's life with face-to-face interaction rather than electronic communication."
The most recent version of the National Gang Report was released in 2015 from the National Gang Intelligence Center and shows that gang use of technology and social media has significantly increased since 2013. More than 54 percent of agencies report integrating social media into gang investigations within the past two years.
Now law enforcement officers in Arizona are trying to integrate social media strategies across their efforts to prevent and track teen gang involvement.
Recruiting new members
According to the NGIC report, social media sites provide gangs with platforms to recruit new members, either through direct communication or indirectly through videos that promote the gang's brand and boast the benefits of the gang lifestyle.
For example, the BBE 900 gang in Cleveland invested money made illegally to create rap videos that were posted on social media sites and used to recruit new members, build the BBE 900 brand and raise the group's intimidation factor.
Gang members are also increasingly moving to messaging platforms, such as Snapchat, kik and WhatsApp, to communicate with each other. These apps provide instantaneous communication similar to Short Message Service (SMS) text messaging, while providing more anonymity, according to the NGIC report.
School prevention programs in Arizona
Friendship appears to be the primary motivation among eighth-grade students who have been involved in gangs in Arizona, according to the 2016 AYS. Approximate 24.2 percent of eighth-graders involved in gangs said friendship was the primary reason for joining. Among 10th and 12th graders, making money was the top priority.
Andrew LeFevre, Arizona Criminal Justice Commission executive director, said that schools in all 15 Arizona counties receive an individual report of their data from the Arizona Youth Survey, and school officials may use this information to adjust programs at their school.
The ACJJ, an organization that reports on functions in Arizona to assist the state's criminal justice programs, conducts the biannual AYS, which includes responses from more than 57,000 eighth, 10th- and 12th-grade students from all 15 counties in Arizona.
School resources officers are intended, in part, to prevent interest in gang involvement. They are assigned by the city of Phoenix and are expected to spend approximately 80 percent of their time on campus.
Gang activity at Kingman High School
The Mohave County Resource Officer at Kingman High School conferred with faculty and Juvenile Probation and found it challenging to identify organized gang affiliation amongst juveniles.

KHS has about 875 students, and MCSO School Resource Officer and school administrators have come into contact with maybe 20 students through the 2016-17 school year who had some sort of self-proclamation, association, or other gang affiliation. Usually it is by word of mouth or social media that these individuals are identified.
These 20 students represent about 2 percent of the total KHS population. Of these 20 students, about 15 have dropped out of high school or been placed in an alternative learning school, which leaves about five students who may have some association with gangs.

MCSO School Resource Officer has made no arrests at the high school with gang affiliation enhancements. No graffiti or tagging has been reported at the high school, and no gang colors, hats, bandannas, paraphernalia, or sagging pants are allowed at the school.
A majority of the students and faculty do not believe KHS has a gang problem.

"I am hesitant in saying we do not have any students with gang associations or affiliations," said MCSO Deputy Chief Dean McKie. "However, we do not have the issues that major metropolitan schools may see."
Kingman Police Department was invited to participate for this article. KPD did not respond to the inquiry.
Using social media to track gang activity
K.C. Hill, a detective with the Arizona Department of Public Safety Gang and Immigration Intelligence Team Enforcement Mission (GIITEM), said social media is involved in gang investigations a lot.
"We live in an age where everybody uses social media in one form or another," Hill said.
Hill has been with the GIITEM task force for 14 years, and he said members of the GIITEM task force have begun making covert Facebook or other social media accounts. That allows them to "friend" gang users and bypass their privacy settings.
"It's basically like doing undercover work in a cyber field," Hill said. "There really is no difference other than that I can work undercover and talk the part, walk the part, dress the part and go into a neighborhood and buy drugs, or I can make a picture where I dress the part, look the part and talk the part – but nobody ever has to see my face – and I can accomplish the same thing."
Although social media can be a good place to gain information for an investigation, Hill said he doesn't like starting investigations that way.
"For us, it's a good way to identify or help identify gang members and particular associates of that gang member, but I don't use it as a single focal point for identifying gang members," Hill said.
In order to be documented as a gang member in Arizona, you have to meet two of seven legal criteria. One way to meet a criterion is through electronic correspondents, like Facebook posts.
The Daily Miner staff contributed to this report.