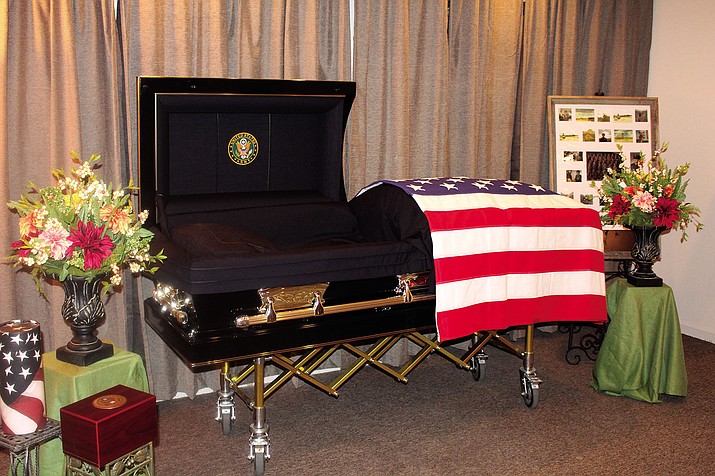 Photo by Hayden Merrill.

Originally Published: May 25, 2017 5:58 a.m.
KINGMAN – Kingman's newest funeral home is showing its support for veterans around Mohave County. Mohave Memorial, located at 4764 N. Stockton Hill Road, may be the new funeral home in town, but they are not amateurs.
Mohave Memorial is owned and operated by Kingman resident Jerome Miratsky. Miratsky has had quite a history with mortuary science. Since obtaining a master's degree in mortuary science from the University of Nebraska-Lincoln, he has gone on to obtain 30 years of experience as a funeral services practitioner.
Joining Miratsky in leading Mohave Memorial are Stacy Stewart, a licensed funeral director with 12 years of experience, and Kelly Medlin, a funeral counselor.
"These two have done a lot to make the wheels turn around here," Miratsky said.
The experience and professionalism of these three can be seen throughout Mohave Memorial. Couple this experienced and professional management with a major new advancement, and Mohave Memorial is on track to become the premier funeral home of Mohave County.
The newest installation at Mohave Memorial is their crematory. The crematory was installed earlier this year and officially licensed for use in April. This addition has made Mohave Memorial only the second funeral home in Kingman to have a crematory on site.
"A lot of people are not aware there is a second crematory in Kingman," Miratsky said.
However, Mohave Memorial is offering services to past veterans in order to spread that awareness. Mohave Memorial is honoring veterans with a special military package. Packages include an urn or 20 gauge steel casket with free space and vault in the Lake Havasu Memorial Gardens, at no additional cost.
Lake Havasu Memorial Gardens is also under the ownership of Miratsky, so this made the partnership an ideal fit. Having a military background, Miratsky and Stewart have made it a priority to offer these services to honor veterans.
Stewart and Medlin are also in the process of obtaining their own crematory licensure. This will make them two of the only females in the area licensed to offer the service.
"We at Mohave Memorial Funeral Home & Cremation Services take our responsibility of caring for those who have passed very seriously, therefore our dedicated and professional staff hold the highest standards of ethics and integrity in how we operate our funeral home with regards to cremation," Medlin said.
With plans in place to open a second location in Lake Havasu within two years, Mohave Memorial is spreading around the community, offering great services to veterans and non-veterans alike.
"Our dedicated staff works compassionately with surviving families to create personalized memorialization and celebration of a life lived," Medlin said.
Visit the Mohave Memorial website for more information, including prices: mohavememorial.com.