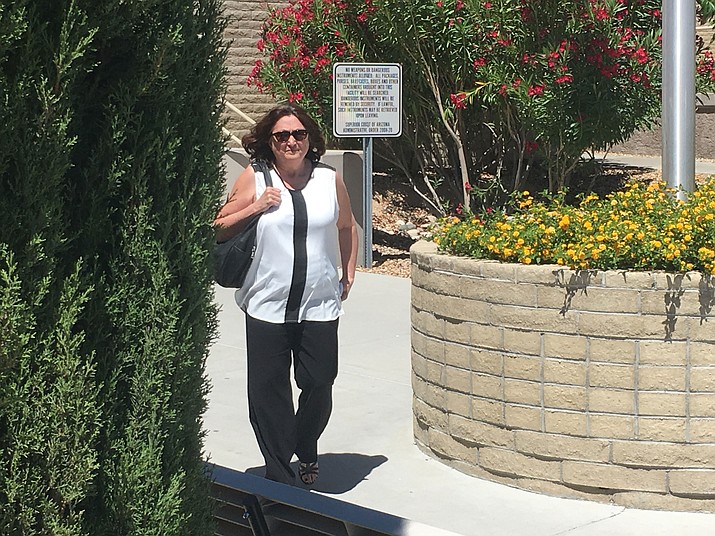 Photo by Hubble Ray Smith.
Originally Published: May 28, 2017 5:59 a.m.
KINGMAN – Diane Maxine Richards sat through an uneventful 10-minute status conference Thursday, satisfied to hear Mohave County Judge Billy Sipe continue her embezzlement case until June 27.
Richards, the former City of Kingman employee who allegedly embezzled $1.1 million from an employee benefits fund, said not a word during her brief court appearance.
Assistant Attorney General Joseph Waters and defense attorney Adam Zickerman spoke to the judge by phone.
Zickerman said he has additional mitigation with regard to a mutual resolution of the case.
"We're close," he said in requesting a few more weeks for the status hearing.
Waters said he was fine with the extension.
Sipe held a May 19 settlement conference in which both parties discussed the strength of their case and possible sentencing ranges of three to nine years in prison should Richards go to trial and be found guilty of the charges against her.
Richards was also advised of the range of penalties should she accept a plea offer. The settlement conference provided Richards with enough information to help her make a decision on resolving the case.
Richards, former budget analyst and interim finance director for Kingman, is charged with embezzling about $1.1 million from the employee benefits fund through the city's credit card account.
She was arrested in 2015 and charged with 23 felony counts of theft, forgery and misuse of public funds, and is free on her own recognizance as the case proceeds through court.