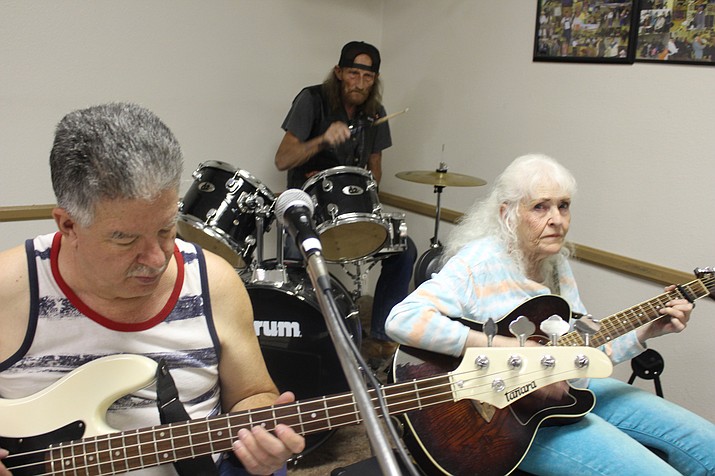 Photo by Hubble Ray Smith.
Originally Published: May 28, 2017 6 a.m.
The musicians who show up for Thursday afternoon jam sessions at Kathryn Heidenreich Adult Center have come from all corners of the world, and their backgrounds are as varied as the routes they took to get here.
They're a little over the hill from peak performance, and many of them played out their final years with the senior center jam band.
Shaen Johnson, 84, has been playing rhythm guitar and singing with the band for just about all of her 16 years in Kingman.
"I like the different people that come in and the fact we have a lot of musicians come in and sit with us," said Johnson, who played around town with Frank Blair and Easy Country for five years.
Originally from North Wales, Johnson immigrated to the United States from London in 1951 after marrying an American in the U.S. Navy.
She had worked in British pantomimes and traveled as part of a magician's troupe.
Self-taught on guitar, Johnson fell into the folk music scene that was propelling the beatnik movement in 1950s America.
"I liked country music, but I liked folk music," she said. "I played Welsh folk songs and taught myself."
She once went to a "hootenanny" at Gerde's Folk City in New York City's Greenwich Village and heard some guy screaming his lyrics. Who is that? Turned out to be some cat named Bob Dylan.
Johnson followed friends from California to Kingman, retiring from her job as credit manager at Sheraton hotel in Santa Monica.
The piano player
Wes Shamblin moved to Golden Valley in 1990 to get away from all that goes with living in Southern California.
"You want the whole list?" he asks.
A cabinet maker by trade, Shamblin built a 30-foot teepee for his home.
He started playing piano at age 14, took lessons and was inspired by old-time music. He listened to Big Tiny Little on the Lawrence Welk Show, Joe "Fingers" Carr, Scott Joplin and Jo Ann Castle. His talent landed him gigs at various joints around Los Angeles, and he played at three pizza parlors he owned.
"I didn't know that much country, and when I came into the senior center and offered my services to play, they said, 'Come in and play with the band,'" Shamblin recalls. That was 13 years ago.
Shamblin said his biggest adjustment was changing notes to play in keys that are fundamental for country guitar.
An audience favorite, Shamblin also plays The Gardens Rehab Center, VFW and American Legion halls and his church.
"I'm quite a philanthropist. I enjoy seeing people having a good time and sharing what I know," Shamblin said. "At my age, music's about it, buddy."
On bass guitar
Charles "Pep" Hagan is steeped in country music history, going back to his granddaddy playing fiddle in the Oklahoma panhandle. His uncle played banjo and his aunt played piano.
His musical influences date back to Hank Williams, whom he saw perform live with Minnie Pearl and "Smiley" Burnett.
Hagan picked up the guitar when he was a kid and paid for his own lessons when he got older.
Because Hagan could read music, he was offered a job to back singer Peggy Lee in Denver, but couldn't take time off work. He played nearly every club in Denver with his band, the Gamblers.
He grew tired of the club scene in Denver and moved to Kingman more than 30 years ago, joining a local oldies band. There were plenty of lead guitarists around town, but no bass players, so he took it up.
"I'm 85 years old and I've been offered jobs to play in rock and roll bands. That takes the cake, don't it?" Hagan said.
He said the musicians try their best to entertain the crowd of 20 or 30 regulars who show up for the jam.
"I really don't care how good they are or how bad they are. We just want to have some fun and we would like everyone to come on down and join us," he said.
Guitar pickers
Jack Fields, 69, came to Kingman in 1986 from Ventura, California, for the health of his oldest daughter, Sarah, who had severe asthma.
His wife's parents had moved to Parker, and when he visited them, he noticed Sarah didn't need the medication she'd been taking since age 4. Fields had worked in the automobile industry all his life, following the career path of his father and grandfather, leaving for about five years to hit the road with his band, the Optimistics, and later the Jack Fields Trio.
They played Top 40 hits from the 1970s. Fields' father was a musician who played weekend gigs, and his mother played piano. He picked up the guitar at 6 years old. As a member of local band Country Fever, Fields was told about the senior center jam, where he's played for about a year.
"Just the different musicians and different style of music," he said of the jam. "I like playing a variety of music, from the 1930s on."
He likes playing alongside another guitarist, Bob Russell, who comes off with a Chet Atkins picking style. Russell played in bands during his college days at Fresno State when he "couldn't hold down a steady job." He taught high school and junior college mathematics in Washington, and came to Kingman about 3½ years ago to live near relatives. Weather was another factor.
He learned a few fundamental chords from a friend in the U.S. Air Force and listened to a lot of Les Paul in teaching himself how to play.
Russell said he enjoys the congeniality of the senior center jam and he gets to play the music he prefers, mostly standards from the 1930s to '50s and a little rock and roll.
"It's a challenge adjusting to everybody who wants to come up and sing," Russell said. "Some people really want to sing badly, and that's what they do. They sing badly."
The band plays from noon to 2 p.m. Thursday at Kathryn Heidenreich Adult Center, 1776 Airway Ave.