Photo by Butch Meriwether.
Originally Published: May 29, 2017 9:30 a.m.
GOLDEN VALLEY – A Mohave County Sheriff's Office deputy received minor injuries when his patrol vehicle was involved in a two-vehicle traffic accident at 7:19 p.m. Saturday.
Golden Valley Fire District Duty Officer Captain Dave Martin, firefighters from Stations 11 and 12, River Medical Ambulance Service, Department of Public Safety and MCSO responded to the accident at the intersection of Tapeats Drive and Egar Road in Golden Valley.
The two crews from GVFD were first to arrive on scene, and they immediately began procedures to extricate the deputy who was pinned inside his overturned vehicle. At the same time, Captain Martin attended the driver of the other vehicle involved in the accident who complained of a sore neck, but refused medical assistance.
As soon as GVFD Firefighter/Engineer Jimmy Childers and Firefighter/EMT Hunter Davis removed the windshield of the patrol vehicle, Firefighter/EMT Luke Weber crawled into the vehicle to check on the condition of the deputy and to begin first aid.
At the same time, GVFD Captain Rob Arnold began utilizing the extrication cutter to cut away the roof of the patrol vehicle in order to remove the deputy from the wrecked vehicle.
After being extricated from his partol unit, the deputy received medical aid at the scene for an injury to his arm prior to being transported to Kingman Regional Medical Center for further evaluation and medical treatment.
According to the DPS officer who responded to the accident, the deputy was driving northbound on Egar Road when a Toyota SUV pulled out in front of him. When the deputy's vehicle hit the Toyota with a glancing blow, the sheriff's vehicle slid sideways and rolled over at least twice before ending up on its side. The Toyota spun around and ended up on the opposite side of the road facing northbound.
The officer went on to say the driver of the Toyota told her he had missed his turn onto westbound Tapeats Drive, made a u-turn on the dirt area east of the road, then started to cross Egar Road and pulled directly in front of the deputy's vehicle.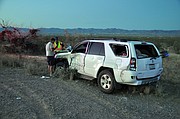 "I made a u-turn, looked both ways and then proceeded across the road, but because of the setting sun blinding me, I didn't see the other vehicle coming," the driver of the Toyota purportedly said.
The exact cause of the accident is being investigated by DPS.