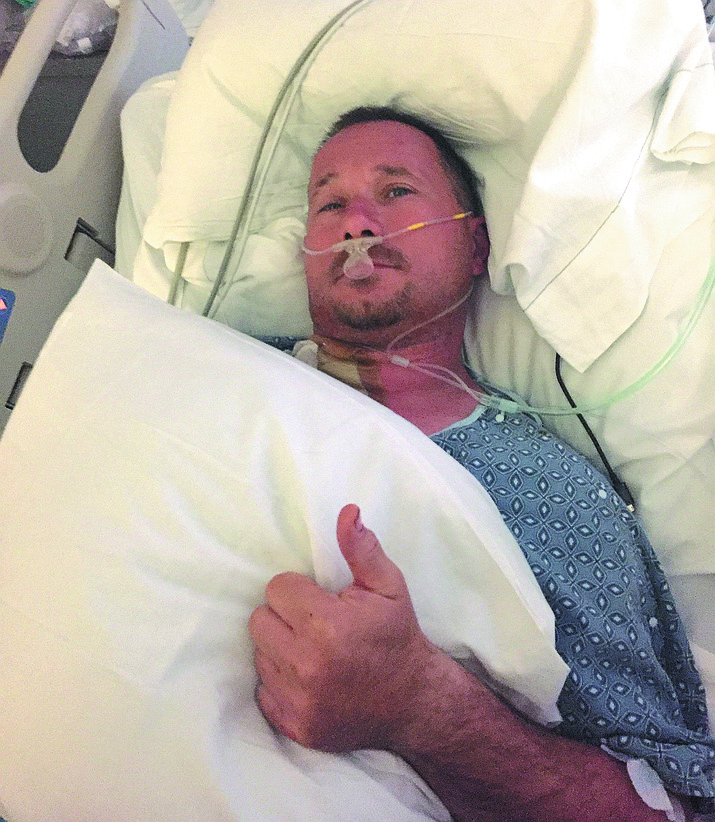 Originally Published: May 30, 2017 3:13 p.m.
KINGMAN – Frank Dazzo must've had someone watching over him the day he was almost fatally stabbed by a Texas man on Mother's Day.
The 44-year-old Frank and his father, Richard Dazzo, 65, are slowly recuperating after they were attacked by David Jay Juarez, 41, at their family business, Dazzo's Chicago Style Eatery in Wikieup.
Richard has been back at work since the incident and took a few minutes of his day for an interview. Frank is at home recuperating from major lifesaving surgery.
Mother's Day business took a violent turn when Juarez went haywire, grabbed a large kitchen knife, stabbed Frank in the neck and Richard in the arm.

Juarez then fled the restaurant, stole a maintenance truck from a nearby business and led Arizona Department of Public Safety troopers, Mohave County Sheriff's deputies and Kingman Police on a high speed pursuit that ended on Andy Devine Avenue with the fatal shooting of Juarez.
Richard said the restaurant had been busy throughout the day when Juarez started acting strange.
"David was breaking out in a sweat and I told him to take a break and come back later," Richard said. "(I think) he got mad at me because I told him to cool off."
To Richard's surprise, Juarez came back to the restaurant earlier than expected because he said his trailer was too hot. Richard brushed it off and continued working when Juarez grabbed a large kitchen knife and stabbed Frank – who had just returned from church – in the neck, hitting the jugular vein and immediately causing massive bleeding.

Richard was armed at the time with a pistol, but he didn't have a round in the chamber.
"We carry guns out here," he said. "After Frank was stabbed he said 'Shoot the son of a bitch, he stabbed me.'
"Then (Juarez) came running at me and stabbed me in the arm. I tried to cock the gun, but I had blood running everywhere. I pulled the trigger but the gun didn't go off."
After the stabbings, Juarez fled.
There were people in the restaurant during the attack. Frank tried to get to the phone.
"He said 'Call 911,' and then collapsed face down right there," Richard said. "He was lying in a puddle of blood, gurgling."
According to Richard, Juarez spotted a service truck and a small work crew nearby. He offered the crew money to hide him for the night and when they declined, Juarez jumped in the truck and sped off.
Richard stayed behind to help stop his son's bleeding.

"When I took my hand off of his neck, there was no blood coming out," he said. "It's by the grace of God my son is still alive."
Richard said an ambulance showed up in 45 minutes, but it took a helicopter an hour to get to the scene. Richard was treated at Kingman Regional Medical Center and Frank was eventually taken to University Medical Center in Las Vegas.
"They loaded (Frank) up in the helicopter and stopped in Kingman because he had no blood in him," Dazzo said. "They took me to (KRMC), took X-rays, cleaned the wounds and stapled them up.
"The next day I got a call and found out the bone was fractured."
Richard was patched up shortly after midnight the following Monday and immediately went to Las Vegas to see his son.
"I had a cross on me and I prayed on that cross for four hours while he was in surgery," Richard said.
Frank was unresponsive when brought to his recovery room.

"I tickled his foot, yelled his name four times and he shook his head," Richard said. "It's a miracle man. A total miracle"
No one is sure why Juarez did what he did.
Juarez had been working at the eatery since March. He had been driving through Wikieup and stopped in looking for work when Dazzo hired him on as a cook. One of the cooks had recently quit and Juarez was filling in.
Richard said he had noticed signs of Juarez's mental instability when he became jealous after hearing the cook might come back to work.
"(Juarez) said something to the effect of 'What are you going to do? Hire Jerry back?" Richard said.
He also said about a week before the stabbing, Juarez was drinking wine and told Frank's wife that he had a vision the couple were dead and in the vision took custody their youngest daughter.
Juarez had rolled his car on Highway 93 in early May, but never made a report. Frank had been holding some of Juarez's money to help him save up to buy a new car. Juarez's brother and sister have retrieved some of his belongings.
"To top it off, he was one of the most polite guys I ever hired," Richard said.

Frank doesn't have insurance and has at least $40,000 in hospital bills. A friend in Colorado set up a You Caring Compassionate Crowdfunding page that has raised a little more than $5,500 so far. Frank, also a pastor at the Wikieup Bible Church, has been at home recuperating ever since.
"He's got a big scar from his neck to his stomach where (the hospital) had to rip him open," Richard said. "I think God had more plans for him."
The hot dog joint is still up and running. Richard still has his arm in a sling.
"It's just me, my wife and a cook," Richard said. "And I only got one arm."