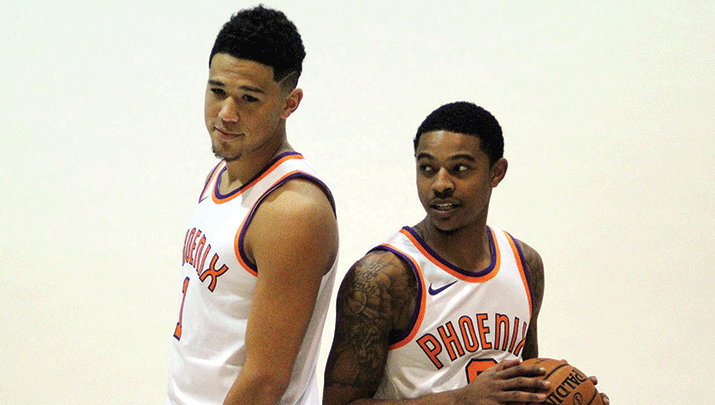 Photo by Beau Bearden.
Originally Published: November 1, 2017 5:59 a.m.
PHOENIX – The beginning of the NBA season has been a whirlwind for the Phoenix Suns. Coach Earl Watson was fired after an 0-3 start and starting point guard Eric Bledsoe likely played his last game with the team. Amid the disarray, the Suns started to turn around their performance under interim coach Jay Triano.
A key to their 2-1 record under new leadership has been defense.
In their season opener, the Suns lost to the Portland Trail Blazers by 48 points, suffering their worst loss in franchise history. Just a week later, with Triano at the forefront, the Suns displayed an impressive defensive effort against the Utah Jazz, which was reflected in the score. The team held the Jazz to 88 points, the fewest Phoenix has allowed since last November.
The Suns rank 29th out of 30 teams in the NBA, allowing 117.2 points per game, but have dropped that figure to 105.7 in games under Triano.
"We have to commit to playing defense and the players seem to be bought in right now, but it's a long season and it's a lot of work," Triano said. "If you put in the work, you'll continue to get better."
With a young roster, Triano is "not really concerned with performance" but rather the team's "development." Small forward and rookie Josh Jackson has seen the ability of this team to grow from its mistakes.
"I think we've just been focusing on defense a little bit more," Jackson said. "The first couple games our offensive flow was kind of stagnant. We didn't move the ball as well. We weren't sharing the ball. I think now we're playing better defense and sharing the ball, getting guys involved. Naturally, that just makes everybody more excited to play."
The Suns are on a road trip that features games against the Wizards, Knicks and Spurs. At 4-3 and always dangerous, the Spurs may deal Phoenix its toughest challenge yet.
"We have a tough road trip," Triano said. "Washington has played very well, so it's not like it's an easy trek."
Aside from defense, Triano believes the team's "ability to not turn the ball over" will be vital. In their season opener, the Suns turned the ball over 16 times against the Trail Blazers and gave up 124 points.
Triano has been vocal about his expectations for his players and addressed the team about allowing its opponents to score at will. He has established a sense of accountability among his players.
Jackson and his teammates are working to incorporate that accountability on the court by being more vocal.
"We'll see something small like a breakdown on defense. It's got to be called out," Jackson said. "You never know if you're messing up unless someone tells you what you're messing up on or how to fix it. Just paying attention to small details I think is the best way."
The 19-year-old's start in the NBA hasn't exactly been smooth sailing. Not only was his coach fired three games into the season, but Jackson was fined $35,000 for making a controversial hand gesture at a Los Angeles Clippers fan. However, Triano believes Jackson has handled the adversity well.
"He's embraced coming off the bench, which was a real nice sacrifice for a player like him, and he's embraced taking a lot of pride in how he defends," Triano said.