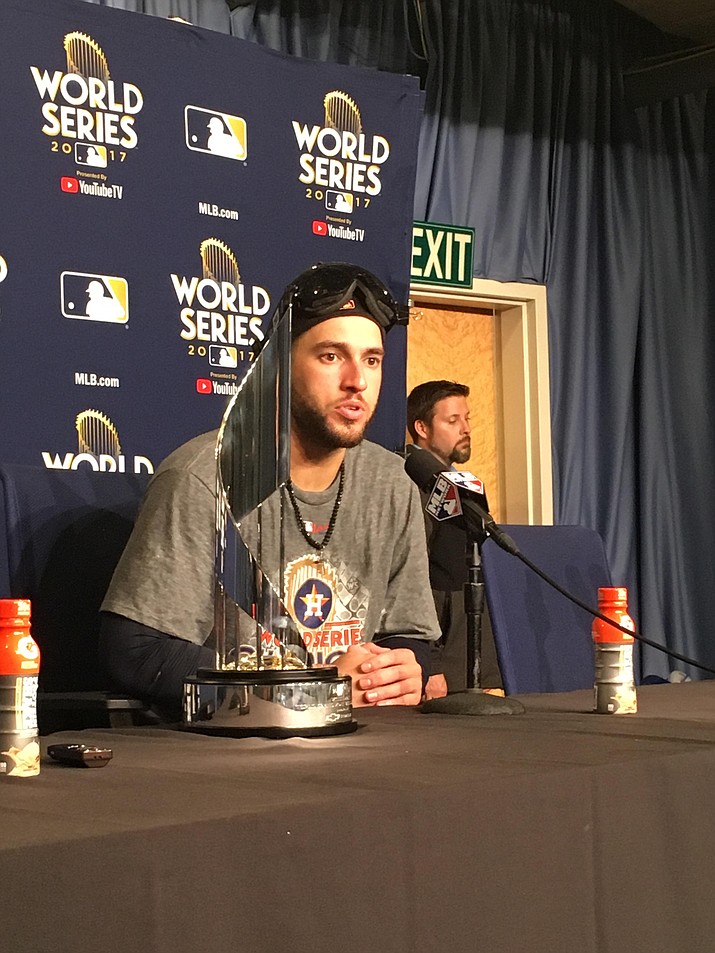 Photo by Beau Bearden.
Originally Published: November 2, 2017 5:34 a.m.
LOS ANGELES – Jose Altuve knew in spring training that this Houston Astros team was going to be special. The Astros lived up to those expectations with a 101-win regular season and capped it off Wednesday night with a 5-1 win over the Los Angeles Dodgers in the winner-take-all World Series Game 7 at Dodger Stadium.
"There was something in our clubhouse," Altuve said. "A lot of chemistry, good relationships between players and coaches, and players with everybody. I believed it was the year. Everyone didn't and now we're here."
Altuve put the finishing touches on Houston's first World Series championship in franchise history, as the second baseman caught a ground ball and threw it to first for the final out.
"I know that as we regroup and get ready for next year, to get to this point you still have to play well in the regular season," said Dodgers manager Dave Roberts. "I know our guys and I know that there won't be a hangover. They will be more incentivized, and I think they'll be hungrier."
Houston's George Springer proved how hungry he was, as he provided the fireworks with a two-run homer in the top of the 2nd inning off of L.A. starter Yu Darvish. It was Springer's fifth long ball of the series, which tied the all-time World Series record with Reggie Jackson (1977) and Chase Utley (2009).
"I remember swinging and hearing the sound of the bat – I knew it was a good sound," Springer said. "I saw the flight of the ball. I got to first base, rounded third and got home. That's a crazy feeling – it's a very surreal feeling because this is Game 7. This is what you dream of as a kid. For that to happen is indescribable."
That moment probably paled in comparison to Springer being named the World Series MVP, but that wasn't what he focused on.
"Our team believed in each other all year, through the good times and the bad times," Springer said. "Through the rough stretch in August and getting down 3-2 against a very good New York team. There are a lot of things that happened. I'm so happy to be a part of it – to bring a championship to a city that desperately needed one. It's a surreal feeling."
The Astros wasted little time jumping out on Darvish, as Alex Bregman scored the first run of the game on a throwing error by Cody Bellinger. Altuve then grounded out to Bellinger to give Houston a 2-0 lead.
In the second inning, the Astros added another run on starting pitcher Lance McCullers Jr.'s ground out to score Brian McCann. Then Springer stepped up to the plate and crushed his solo shot to give Houston a 5-0 advantage it never surrended.
"Being able to put them on their heels early and not letting them attack us was absolutely huge," Springer said.
The Dodgers scored their lone run in the bottom of the sixth when Andre Ethier hit a RBI single to right field.
That was all L.A. could muster as Charlie Morton yielded just one earned run on two hits with four strikeouts in four innings of work. Morton picked up the win, while Darvish was dealt the loss.
"I didn't make the adjustments," Darvish said. "… It hurt the team. But this pain is going to stay in me for a while. I've got to learn from it and just go from there."