Photo by Claire Whitley.

Originally Published: November 3, 2017 6 a.m.
Photo Gallery
2017 Kingman High School Marching Band Exhibition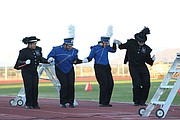 The wind was biting and the event was starting late. Mohave High School's bus had broken down on the way. However, the late start didn't dissuade any of those present thanks to the Lee Williams High School band who started to dance on the field. Drum majors from LWHS and Kingman High School danced in front of the bleachers as students across the field, bass drums and all, participated in the Cotton Eye Joe.
The wait was not only worth it, but entertaining, at the eighth annual Marching Band Exhibition at KHS Wednesday. LWHS, KHS, Mohave and Lake Havasu high schools all participated in the event.
KHS band director Mike Schreiber introduced the event, which he said originally started with just the KHS band. He started inviting other area bands, with Mohave joining in the second year, and for the last three years the same bands have been attending.
Schreiber, along with all of the band directors, thanked the community for all of the support they have gotten. From the signs and artwork to monetary donations to chaperones and parents, Schreiber could not express how grateful he was.
"We've had a good experience (at the exhibition)," Mohave band director Michelle Ribelin said. "We enjoy going."
Due to their work throughout the competition season, Mohave and KHS have both qualified for the Arizona Band and Orchestra Director's Association State Marching Band Festival. KHS will be traveling to Hamilton High School in Chandler Saturday to participate in the event with their performance "Pursuit of Happiness." Mohave will be performing their "Dreams" earlier that day in Chandler as well.
Michelle Ribelin, the director of the Mohave band, said she was excited to learn they were in the state festival. She said she is proud of her students and all their hard work, and will continue to be proud of them even if they don't make it into the top eight that will advance to the championships.
Schreiber said he is very excited to get into the state festival, especially because this year it was more competitive to gain entry. He said he is proud of the hard work his students have done, especially because he has so many younger students in his band.
"About 75 percent of them are freshmen and sophomores," Schreiber said. "The kids worked so hard, and they would just keep working and working."
After working for five weeks during the competitive season, KHS performs at 1 p.m. Schreiber hopes they can get into the top eight, but even if they don't, he said his students have been phenomenal.
"These kids are fighting through everything to prove themselves … they are fighters," Schreiber said. "They have earned everything they got."
What is competitive marching band?
In competition, marching bands are usually judged on criteria such as musicality, uniformity, visual impact, artistic interpretation, and the difficulty of the music and drill. Although some people disagree, competitive marching band is sometimes considered a sport due to the physical exertion required in combination with teamwork.
Sports Illustrated quoted former Indiana basketball coach Bobby Knight on the work ethic of marching band students.
"If a basketball team trained as hard as these kids do, it would be unbelievable," Knight said. "I like to take my players [to watch drum corps] to show them what they can accomplish with hard work and teamwork. Besides, once they see them practice 12 hours a day, my players think I'm a helluva lot easier."
The competition season is a five-week long ordeal. Bands have to attend certain festivals, and they are ranked based on the scores received in the areas mentioned. Kingman attended festivals in Flagstaff, where they received a mark of "good," Prescott and Phoenix, where they placed second at each and scored over 60 points.
The top 20 bands are in the state festival this weekend, and the top eight from there will continue on to the championship.
More like this story