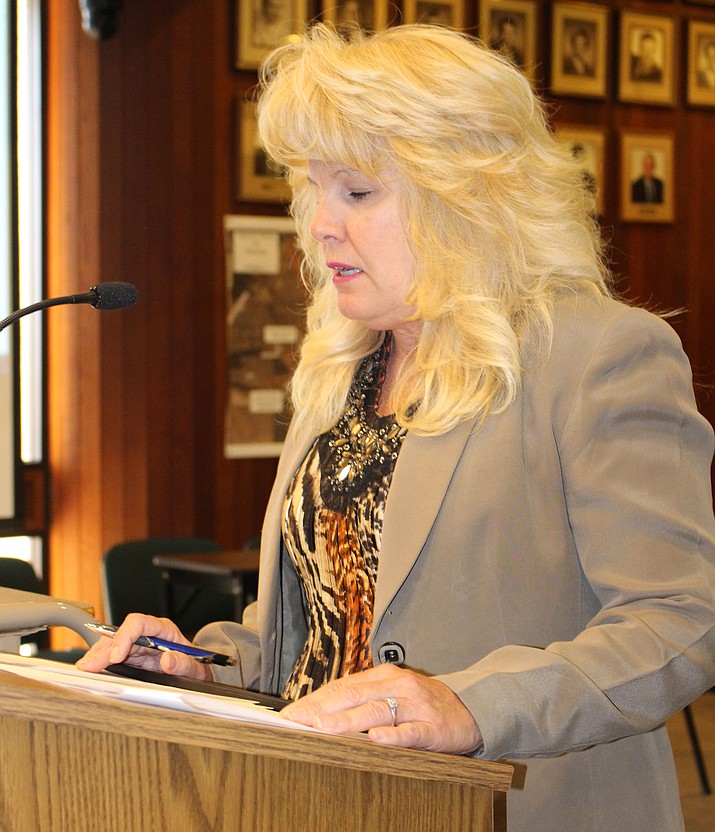 Photo by Hubble Ray Smith.
Originally Published: November 3, 2017 5:59 a.m.
KINGMAN – The City Council unanimously chose Springsted-Waters Thursday as the recruitment firm to find the next city manager to replace John Dougherty, whose contract was not renewed after four years.
Springsted-Waters is charging the city $24,500, plus $1,650 for an online survey to assess leadership style, said Jackie Walker, human resources director who presented options from four firms.
The firm has recruited 465 executives nationwide, and is also working to find a city manager for Lake Havasu City, Walker added.
In the meantime, the council will interview two candidates from the Phoenix area to serve as interim manager on Monday.
Thursday's special meeting was called to select at least two recruitment firms, but the council decided on Springsted-Waters based on Walker's recommendations and personal calls to the firm.
"I talked to all of them, and I talked to mayors and recruiters, and these guys are clearly better and have a better fee structure," Mayor Monica Gates said. "It definitely gets them ahead."
Walker said she took a "deeper dive" into the analysis of each firm, including their fees, scope of work and optional services, and came up with the top three firms that matched the council's list, though not in the same order.
She also looked at each firm's personnel experience, guarantees, references and cities that used them.
Bob Murray and Associates came out on top of several council member's list, but there was concern that the firm had recently been acquired by a different company, and Murray was acting only as a consultant. They were also heavy on California recruits.
Bob Murray and Associates had a lower professional fee of $18,500, but added $8,500 for expenses, bringing their total fee to $27,000.
Councilwoman Jen Miles said she had Ralph Anderson and Associates, the most tenured of the firms, and Springsted-Waters at the top of her list, but eliminated Anderson after hearing from the human resources director. Anderson's fee was $27,500.
Mayor Gates questioned whether Springsted-Waters' proposed 11-week window from kicking off the recruitment process to extending an offer to a new city manager was a "little optimistic."
Walker said they do have an "aggressive process," but the time frame is going to depend on how quickly the city gets things turned around and back to Springsted-Waters.