Originally Published: November 5, 2017 5:50 a.m.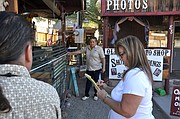 OATMAN – According to county records, it had been more than 25 years since a full canvass had been completed in Oatman, the historic mining town and tourist destination nestled high in the Black Mountains.
Because of this, Mohave County Assessor Jeanne Kentch, along with eight employees from her office and a security detail of three MCSO deputies, converged on Oatman last week to complete a canvassing of properties there.
"Due to some past intimidation toward our appraisers, and for my staff's safety, we asked if the sheriff would assist us. There are many improvements protected by large dogs and numerous squatters in the area that might not want to see us coming around the corner," Kentch said. "For the safety of our staff, Sheriff Schuster was nice enough to assist us on our endeavor."
Most all parcels in Mohave County are taxed, but there are a few that are exempt from taxing, including federal, state, and local government properties, in addition to churches and community centers if the parcel is actually used for religious and community activities.
All parcels located within Mohave County, except for the aforementioned categories, are valued by the market.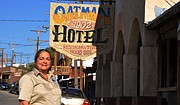 "If a market in a specific economic area is moving in a positive direction," Kentch said, "the values in that area will increase. If the economy in that area is stagnant, then the values will not move and could actually decrease. The Assessor's Office is mandated by Arizona State Statutes to value all property by the market approach."
Kentch estimated that it would take four to five days to complete the Oatman canvass. It included taking into account, measuring and documenting every improvement on about 600 parcels located in and around Oatman. However, because the Oatman residents were supportive and the four two-person teams from her office were extremely experienced, it only took two days to complete the task of evaluating about 400 improvements.
As part of the canvass, when the Assessor's employees came upon a person on a piece of property they were cataloging, they asked the person their name, if they owned the property, if they rented and/or whom they rented from. They also asked for a contact telephone number for any further questions because they previously did not have the information in the county's data banks.
Every piece of dirt has a parcel number in Mohave County. Parcels can be as large as hundreds of acres or as small as 1/4-acre lots. No matter what type of parcel, if a person receives a tax bill, they own a parcel.
According to the assessor's office, tax bills will have a set of numbers that look like 306-22-073, but could also have a letter after it (indicating it was split from a larger parcel), and that is the identifier for a particular parcel of land.
"In Oatman, there are quite a few mining patent claims," Kentch said. "When someone owns the mining patent claim, they own the land from close to the surface on down. Since a person owns the land below, many patent owners charge rent to those for any improvements (such as a structure) that is located on top of the claim."
One hundred years ago, it was common for mining patent claim owners to allow their workers to build a structure, such as a home, on the mining claim. The improvement would be owned by the miner who worked for the mine, and many owners or their relatives of these improvements still pay rent to the mining patent/claim owner.
Another type of property in Mohave County is state or BLM lands. There are many parcels of government-owned land in and around Oatman. If any of these parcels, owned by the government, have an improvement located on them, they are called Improvements on Possessory Rights, commonly referred to as IPRs. These parcels are exempt from taxes due to their ownership, but the improvement can be taxed.
"The Assessor's personnel have no problems with multiple structures on properties throughout the county," Kentch said. "We come across this frequently. Having structures added to properties that we did not know exist is the concern.
"When we do not know the structure exists, we cannot add the structure as an improvement to our tax rolls," she said. "We are making certain all structures in the Oatman area are accounted for."
Through research, county officials determined about 40 percent of the property owners in Oatman were delinquent in paying their taxes, but those numbers change on a daily basis. Additionally, some Oatman property owners had not paid property tax in more than 10 years.
After Kentch's office posted the notice at the Oatman Post Office, the Oatman Hotel, and the Oatman Fire Department announcing the canvass, many of the property owners showed up at the Mohave County Treasurer's Office and paid their past due taxes.
"Because of the much-needed canvassing of the Oatman area and updating of the parcel evaluations, some of the parcels will lose values due to degradation of the multiple improvements," Kentch said. "Some parcels will gain due to adding structures or square footage.
"We will be reviewing each property for assessments," she said "The changes will most likely appear on their 2019 Notice of Valuation that will arrive in their mailboxes next spring."
More like this story