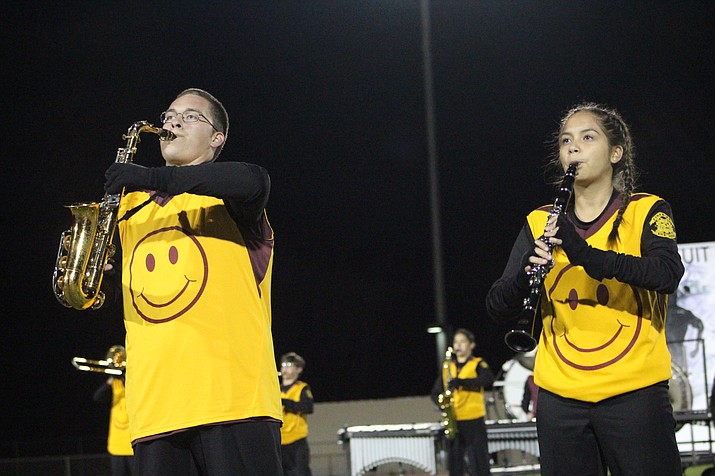 Photo by Claire Whitley.
Originally Published: November 7, 2017 6 a.m.
KINGMAN – After their performance at the State Marching Festival Saturday in Chandler, Kingman High School Marching Band ranked in the top eight bands in Arizona. This means they are headed on to the state championships.
Michael Schreiber, KHS band director, said he is excited to represent Kingman and northern Arizona at the state championships. Going into this week, he said practices will be light, then next week leading into the performance they will be back to "hitting it hard."
"For such a young group to have come so far says a lot about their character," Schreiber said. "They come out and work hard for hours every week and I'm happy that their work was rewarded with recognition like this."
Schreiber said he is "super proud" of his students. A few things went wrong during their performance such as wind blowing over their backdrops and electronics not working, which could have shaken them to a point they couldn't recover from.
"I've seen bands fall apart for way less than that, but our kids didn't miss a beat and carried on to a solid performance. We have amazing kids here that represented Kingman and KUSD proudly," Schreiber said. "They took it in stride and embodied the phrase 'the show must go on.' It was gutsy and professional and they impressed me at their resilience."
Schreiber said all of this work couldn't have been done without the support of the community.
"People don't have a lot, but despite that, they give so that these kids have an opportunity to show off their talents at competitions," Schreiber said. "Putting together a competitive marching band is ridiculously expensive, but we somehow manage every year because our administration and community believe in giving these kids a chance. I'm thankful to this community, the administration at KHS and KUSD and to these kids."
The championships will be held Nov. 18 at the Arizona State University Sun Devil Stadium in Tempe. KHS will be performing their set "Pursuit of Happiness" at 9 a.m.
"These kids are amazing and are primed to do amazing things," Schreiber said. "You hear it all the time about the laziness of the younger generation. These kids take pride in what they do and despite the obstacles of socio-economic status, budgets and other opportunities they don't have access to, they make up for it in sheer determination and work ethic and rise above to be successful in a very competitive state."