Originally Published: November 10, 2017 5:54 a.m.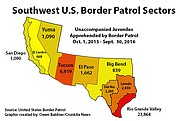 PHOENIX – They arrive at the federal courthouse each Friday, their hair neatly combed, dressed in the best clothes they own or can borrow.
The oldest is 17 years old. The youngest is 5. All of them are unaccompanied minors living in shelters, waiting to be reunited with a parent or guardian, granted asylum, or deported back to their home country.
More than 5,400 juvenile immigration deportation cases were heard in Arizona between 2005 and July 2017, according to data from the Executive Office of Immigration Review. The majority of these children and teens, more than 3,300, are from Guatemala. Another 1,000 are from Mexico. Honduras and El Salvador account for most of the rest.
An increasing issue
In 2014, an influx of 68,000 unaccompanied minors fleeing ongoing violence in Central American countries arrived in the United States, with many initially spending time in Arizona detention centers.
"For some part of the population, even the thought of crossing through Mexico to spending some time in detention in the United States has not been enough to deter people from trying because of the desperation they feel," said Maureen Meyer, of The Washington Office on Latin America.
Honduras and El Salvador have had some of the highest murder rates in the world, according to 2014 data from the United Nations Office on Drugs and Crime. Guatemala also was on the list, though some people chose to leave the country for purely economic reasons, said a spokesperson from the United Nations Human Rights Commission.
A report in May from Doctors without Borders, a nonprofit humanitarian aid organization, found more than 40 percent of Central American immigrants reported having been the victim of attacks or threats to themselves or their families.
"The root causes of why these children are fleeing – which is the violence, and that kids (girls and boys) are being targeted by gangs and narco traffickers – those have not changed but just coming here, making it across the border is more difficult," said Megan McKenna of Kids In Need of Defense, a Washington D.C.-based nonprofit that provides free legal services for immigrant and refugee children.
Looking for asylum
On this particular day, in Courtroom 7 of the Phoenix Immigration Court, several unaccompanied minors with no legal way to stay in the U.S. will request voluntary departure, acknowledging the U.S. government has the right to deport them.
One of them is 10-year-old Pedro, who is from Guatemala. His father is in Immigration and Customs Enforcement custody in Texas.
Pedro, who goes by Peter, is small for his age. Federal Immigration Judge John W. Richardson asks him if he can get up in the chair. He does, but his feet dangle above the floor. Richardson asks what he had for breakfast at the shelter. Peter doesn't remember.
Peter's lawyer requests a one month continuance to assess his case. His father has asked that he and his son be allowed to leave the country together. Richardson grants the request for continuance, and sets another court date for the following month.
On any given day, the judge, communicating through a translator, asks the same three questions to all of the children requesting voluntary departure.
"Are you from (country of origin)?"
"Are you willing to go back?"
"Do you have any fear of going back?"
If the answers are yes, yes, and no, the judge will grant their request for voluntary departure, and the child will have 120 days to leave the country.
More than 70 percent of juvenile immigrant cases in Arizona since 2005 have resulted in a removal order, or voluntary deportation, according to EOIR data.
More like this story