Originally Published: November 10, 2017 5:55 a.m.
Stellar encore: Dying star keeps coming back big time
CAPE CANAVERAL, Fla. (AP) – Death definitely becomes this star.
Astronomers reported Wednesday on a massive, distant star that exploded in 2014 – and also, apparently back in 1954. This is one supernova that refuses to bite the cosmic dust, confounding scientists who thought they knew how dying stars ticked.
The oft-erupting star is 500 million light-years away – one light-year is equal to 5.9 trillion miles – in the direction of the Big Bear constellation. It was discovered in 2014 and, at the time, resembled your basic supernova that was getting fainter.
But a few months later, astronomers at the California-based Las Cumbres Observatory saw it getting brighter. They've seen it grow faint, then bright, then faint again five times. They've even found past evidence of an explosion 60 years earlier at the same spot.
Supernovas typically fade over 100 days. This one is still going strong after 1,000 days, although it's gradually fading.
The finding was published Wednesday in the journal Nature .
"It's very surprising and very exciting," said astrophysicist Iair Arcavi of the University of California, Santa Barbara who led the study. "We thought we've seen everything there is to see in supernovae after seeing so many of them, but you always get surprised by the universe. This one just really blew away everything we thought we understood about them."
The supernova – officially known as iPTF14hls – is believed to have once been a star up to 100 times more massive than our sun. It could well be the biggest stellar explosion ever observed, which might explain its death-defying peculiarity.
It could be multiple explosions occurring so frequently that they run into one another or perhaps a single explosion that repeatedly gets brighter and fainter, though scientists don't know exactly how this happens.
One possibility is that this star was so massive, and its core so hot, that an explosion blew away the outer layers and left the center intact enough to repeat the entire process. But this pulsating star theory still doesn't explain everything about this supernova, Arcavi said.
Harvard University's astronomy chairman, Avi Loeb, who was not involved in the study, speculates a black hole or magnetar – a neutron star with a strong magnetic field – might be at the center of this never-before-seen behavior. Further monitoring may better explain what's going on, he said.
Las Cumbres , a global network of robotic telescopes, continues to keep watch.
Scientists do not know whether this particular supernova is unique; it appears rare since no others have been detected.
"We could actually have missed plenty of them because it kind of masquerades as a normal supernova if you only look at it once," Arcavi said.
Nothing lasts forever – not even this super supernova.
"Eventually, this star will go out at some point," Arcavi said. "I mean, energy has to run out eventually."
Drivers get turkeys instead of traffic tickets in Montana
BILLINGS, Montana (AP) – Some Montana drivers got Thanksgiving turkeys instead of tickets when they were pulled over by traffic officers.
The Billings Gazette reports that officers with the Billings Police Department checked for outstanding warrants Wednesday after pulling over drivers for traffic violations.
If they found none, they issued a written warning and a frozen turkey.
Businessman Steve Gountanis bought the 20 turkeys and asked the department to distribute them in time for the holiday.
Driver Larry Riddle appreciated the surprise after he was pulled over for not signaling a turn.
Riddle's wife died of cancer and he lives alone on a limited budget. Each year, he tries to make a holiday meal for his daughter and himself.
-Information from: The Billings Gazette, http://www.billingsgazette.com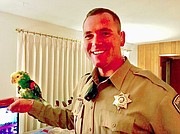 Screams of Help! draw 911 call, but parrot is the screamer
CLACKAMAS, Oregon (AP) – A deliveryman in Oregon who heard a woman's screams for help had his wife call 911, but when a deputy showed up it turned out the screamer was a parrot, not a woman.
The Oregonian/OregonLive reported Tuesday that when Clackamas County Sheriff's Deputy Hayden Sanders showed up, all he found was Diego the Parrot.
The green-and-yellow bird was in good health and no humans were involved.
Imitating 'Curb,' St. Louis man ticketed for honking at cop
ST. LOUIS (AP) – A St. Louis man is feeling pretty ... pretty ... pretty ... pretty miffed over a recent traffic ticket.
In an instance of life imitating art – in this case a recent episode of HBO's "Curb Your Enthusiasm" – computer programmer Scott Smith says he was ticketed for honking his horn at a police officer.
Smith told the St. Louis Post-Dispatch that he repeatedly honked at the officer in an unmarked car Friday because the light had turned green and the officer wasn't moving.
He was pulled over and used his cellphone to record the heated exchange with the plainclothes officer, who asked, "Is your horn stuck?" Smith replied: "Is your brake stuck?"
Smith was ticketed for excessive noise from a vehicle. He plans to file a formal complaint.
In the "Curb Your Enthusiasm" episode, Larry David's character was ticketed for honking at a police car at a stoplight.
-Information from: St. Louis Post-Dispatch, http://www.stltoday.com
NASA seeks nickname for tiny, icy world on solar system edge
CAPE CANAVERAL, Florida (AP) – Heads up, armchair travelers.
NASA is seeking a nickname for a tiny, icy world on the edge of the solar system that's the next destination for New Horizons, the spacecraft that surveyed Pluto.
New Horizons whipped past Pluto two years ago. Now it's headed for 2014 MU69 – gobbledygook to even the most die-hard scientists.
To lighten the mood as New Horizons aims for a 2019 flyby, the research team is holding a naming contest . The deadline is Dec. 1.
MU69 is 4 billion miles (6.5 billion kilometers) away and may actually be two objects, either stuck together or orbiting one another. If so, two nicknames would be needed. The nicknames will be temporary. NASA said Monday that a formal name will come after the flyby.