Originally Published: November 12, 2017 6 a.m.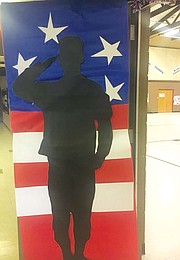 Hualapai Elementary School held a reception and an assembly to honor veterans Thursday.
During the assembly, students learned about what a veteran is, listened to guest speakers, and most importantly, showed their respect toward the approximately 35 veterans in attendance.
The guest speakers, from different branches of the Armed Forces, explained to the children what their duty was while serving.
Veterans were given a Certificate of Appreciation for all they did while serving, including Kingman Unified SchooI District Superintendent Roger Jacks who served in the Air Force.

All decorations throughout the school for Veterans Day were made by the students.