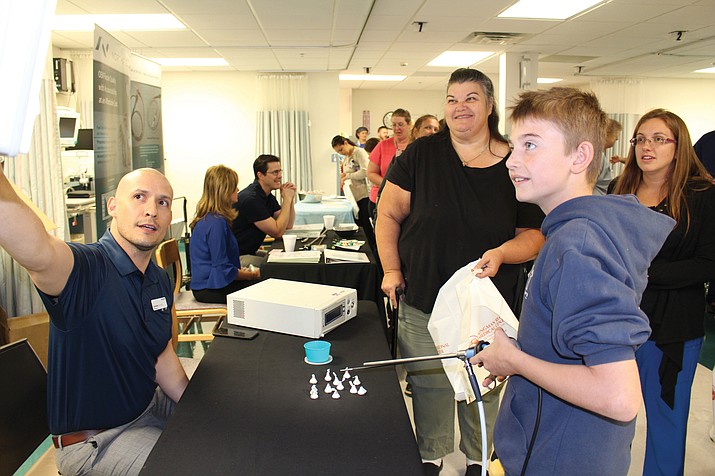 Photo by Hubble Ray Smith.
Originally Published: November 13, 2017 6 a.m.
It's a bloody job, but somebody has to do it.
Angelic Rice assists with surgeries at Kingman Regional Medical Center and maintains a sterile field in the operating room, which means she's in the middle of the blood and guts of it all.
It's a thrill for her to touch a beating heart during open-heart surgery.
"It's not for everyone," Rice said Wednesday during an open house at KRMC's surgical center as part of Perioperative Nurses Week. "I also enjoy babies, doing C-sections. We get stab wounds, gunshots. You can't be squeamish. But I'm not a vampire."
A few dozen KRMC nurses showed the community what it's like working on the operating floor, getting patients ready for surgery, setting up equipment for the doctors and assisting with operations.
Perioperative Nurses Week focuses on the life-saving work of some 160,000 perioperative nurses across the United States who advocate for the safety of surgical patients from check-in to the operating table.
They assess patients' needs throughout the surgical procedure, develop and evaluate a plan for patient care, and prepare the operating room and patient for the procedure.
KRMC nurses wore T-shirts that read, "You can't spell HERO without OR," referring to their work in the operating room, as they greeted visitors and directed them to tours of the facility.
Mock surgeries were performed in three operating rooms, one for urology, one for knee replacement and one for laparoscopic nissen fundoplication, a surgical procedure to treat gastroesophageal reflux disease and hiatal hernia.
"Your stomach is on fire, you can't eat," Dr. Adam Braze explained to a group of Kingman Academy students.
Dr. Richard Mynatt went into the great detail about prostate surgery, showing a 10-inch probe that detects cancerous growth, and explaining how the prostate can be removed through either an incision in the abdomen or with an instrument inserted through the urethra.
Vendor exhibits were popular, exposing kids to possible careers in the medical field.
Luciano Alonzo, representing Stryker medical equipment, helped visitors use a surgery scope and monitoring screen to pick up a Hershey's Kiss and place it in a container.
Graduate students from Northern Arizona University handed out brochures about the nursing program. Other vendors included Northfield, Cook Medical, Medline and Karl Storz.
Throughout the tours, KRMC staff engaged visitors with conversation about what goes on after patients have "gone under" in the operating room.
"We get everybody ready for surgery, from putting in the IV and asking medical questions and making sure they haven't had anything to eat or drink," said registered nurse Stephanie Dunajski, who works in pre-op.
People aren't aware of the operating room environment and medical staff taking care of them, so the open house is a great community event, RN Renee Young added.
About 100 to 125 people attended the three-hour open house, along with 50 students from Kingman Academy.
More like this story