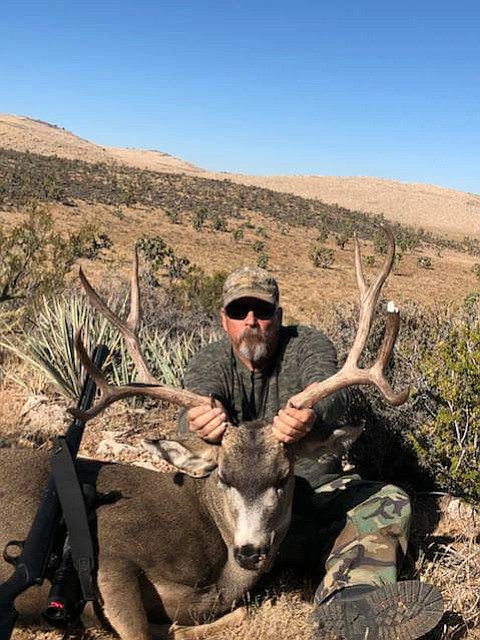 Originally Published: November 14, 2017 5:50 a.m.
Lenny Glentz has been deer hunting for a long time and has taken some decent size bucks in the past.
But this year, on a muzzleloader hunt near Kingman, Glentz took the largest buck of his life.
Glentz was pleased when he learned earlier this year that he and three of his friends had all drawn muzzleloader deer tags in an area north and west of Kingman. It is a hunt that Glentz and his friend have been successful on in the past.
Glentz went out the day before the hunt started and set up camp and awaited the arrival of his friends.
When the season opened Friday, all the hunters found were some does and spikes. Saturday was much of the same. Lots of does, but no mature bucks. Sunday morning the hunters were driving to another area they like to hunt when a 4x4 buck was spotted near the top of a mountain.
As they tried to sneak up on the buck, the buck spotted them and walked over the top. The hunters decided to follow the buck and see if they could relocate him.
When the hunters got to the top of the mountain they spotted the same buck going up another mountain. Then they found another group of deer. They hit the mother lode of mule deer! There about a mile away was 10 deer and they were all bucks.
They put up a spotting scope and Glentz saw that one of the bucks was exceptionally tall and wide. It was a buck of a lifetime.
"I knew right away this was the buck I wanted," Glentz said.
Then started a chain of events that would culminate in three-hour stalk to get within range of the bedded down herd.
The hunters hiked over a mile to get behind the bachelor herd. Glentz and his friends got to within 200 yards of the big buck, but Lenny decided he had to get closer.
Slowly he moved until he was 150 yards from the deer. He could get no closer as there was no more cover.
Glentz found a flat, smooth rock to lay down on and got into the prone position. He saw the buck stand up and he fired a shot from his 50 caliber CVA rifle. The 250 grain Hornady bullet put the buck down. The buck sported a rack that is 28 inches wide and 24 inches tall.
After photos were taken the buck was field dressed and they were able to drag it back to the vehicle.
Glentz brought the buck to Down and Mount Taxidermy in Kingman, where he is having a European mount done.
"It was a great hunt this year," Glentz said.