Originally Published: November 14, 2017 6 a.m.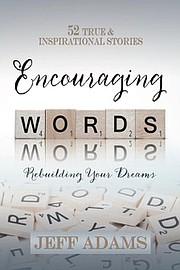 Jeff Adams wasn't born to be an author. He made himself into one.
Adams, a Kingman resident since 1980 and parishioner at Praise Chapel Church, released his first book, "Encouraging Words: Rebuilding Your Dreams," from Redemption Press Friday.
It's a collection of 52 true stories about people you think you may know, and others you've never heard of, told with Paul Harvey's "rest of the story" twist.
Adams worked as a waiter, shoe salesman, appliance delivery man and corporate "fixer" before becoming an author, but he was always writing on the side.
He shares stories of people who never gave up on their dreams.
"Don't quit one day too soon," Adams said. "They all failed over and over again. None of them knew what would work or who they'd become. They dabbled in various fields, but pursued their passions relentlessly."
As an elementary school student, Adams was forced to read aloud in front of the class, and that did not work for him. He was placed in a special education program.
He loved stories, but hated to read. His mother read A.A. Milne's classic Winnie-the-Pooh adventures, along with stories by Dr. Seuss, including his newest book at the time, "Cat in the Hat," and Adams learned to read by memorizing the words.
He struggled in high school, never learned to type, should have flunked English, and should have never graduated. Fifty years later, he blossomed.
Adams was named Writer of the Year in 2017 by the San Diego Christian Writers Guild. Since then, he has contributed to 13 books and his work has been published in at least 33 languages in 100 countries.
One story reached more than 12 million people. But success rarely happens overnight.
"I became a writer by accident," Adams told the Daily Miner. "I needed to fill space in our church bulletin. I wrote a story, told a friend he could share it, he did, and 15 people experienced God's forgiveness. Since then I've continued to write and teach each weekend for our congregation."
Adams and his wife, Rosemary, attended the wedding of one of Praise Chapel's pastors in San Diego, and met an author at a nearby book signing who urged him to join the writers' guild. Over the next year, he drove to San Diego for two-hour critique sessions.
At a later conference of the San Diego Christian Writers Guild, he met Cecil Murphey, author of the bestseller, "90 Minutes in Heaven."
"Cecil mentored me for a year and he's been my friend ever since," Adams said. "He did more than teach me how to write. He taught me how to be real."
Adams was also encouraged by his sister, Julia, who told him that God had given him a great talent. In the dark days after she was murdered, Adams said he couldn't believe in himself. But others did, and now it's his turn to encourage others.
"Be good to yourself," he said. "Too many of us aren't. We treat strangers better than we treat ourselves."
"Encouraging Words" sells for $14.99 on Amazon and on Redemption Press (www.redemption-press.com/store-landing). Copies are also available at Praise Chapel Church for a $15 donation.
He doesn't know if the book will become a series or a brand, and he's not opposed to becoming rich, but says he'd rather be wealthy.
"I can't predict what will sell. No one can. I don't have a crystal ball. I have a snow globe. But I know that everyone needs a few encouraging words," Adams said.
His advice to aspiring writers: "Write what you know. Write from your heart. Get help from other writers."