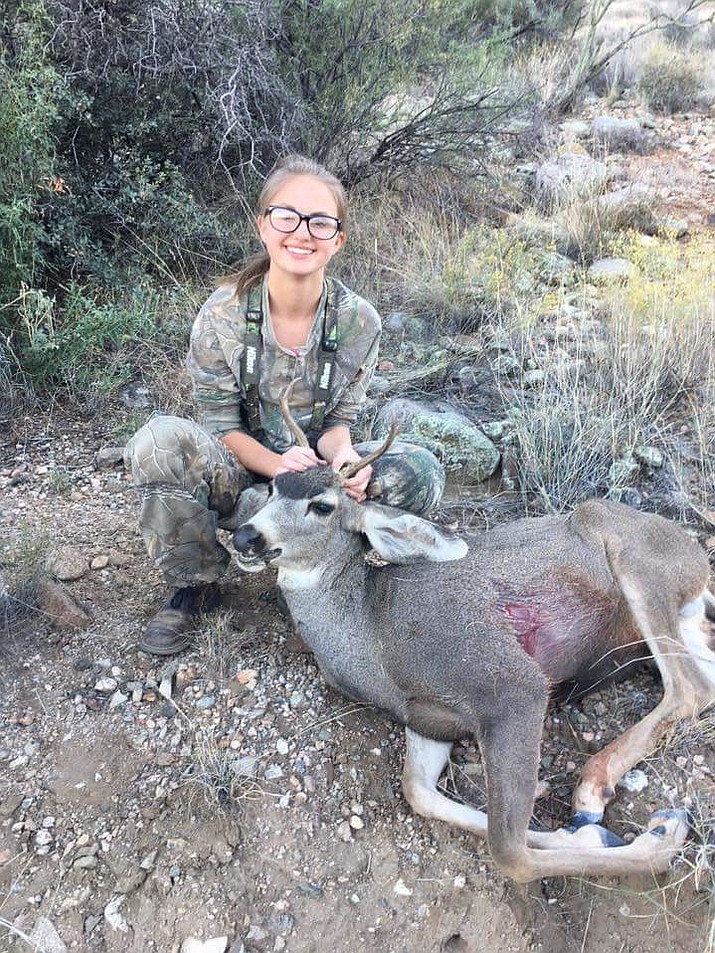 Originally Published: November 14, 2017 5:54 a.m.
I enjoy writing stories about the experiences that friends and neighbors have in the great outdoors.
I especially enjoy writing about young people and what they experience on their trips with friends and family. And when they are a graduate from one of my past hunter education classes – well that makes it just that much better.
This story is about a 15-year-old young lady and her recent deer hunting experience in the Hualapai Mountains, Unit 16A.
Ellie Bruno was the top honor graduate in her Arizona Hunter Education class. She is now at sophomore at Lee Williams High School.
Ellie started off her hunting career after graduating from her hunter education class by going to the Kaibab on an antlerless deer hunt she had been drawn for. She was successful on that hunt. Earlier this year she participated in juniors only javelina tag in Unit 18B, and once again was successful on her hunt.
Ellie applied for, and drew, a Unit 16A deer tag this year.
This would be her first hunt for a buck, ad she was excited to get in the field.
Ellie would be in camp with a group of her friends, and Kenny Bellm was going to be her mentor on this hunt.
The hunt opened on a Friday and Ellie was in the field. Though she and Bellm looked long and hard, all they saw were five does. On Saturday, they were back in the field. Ellie decided to hike in an area where she thought she might see some deer. Another friend of hers, Steve, followed behind.
The hiking paid off for the young hunter. On her own, she saw four does. Later that afternoon they were following another friend, Brandon, when he spotted two bucks about 350 yards away. Brandon's daughter got a shot, but unfortunately missed.
It wasn't but a few minutes later that Brandon spotted another deer on a hillside. He thought it was a doe and drove off, but Bellm told Ellie that he saw antlers on the deer. Turned out it was a 2x2 buck, and it was feeding.
Bellm thought about taking the buck as he had a tag, but decided he would pass and look for a mature animal. The hunters debated if Ellie should take the buck, as it would be her first.
"For 10 minutes we talked it over, and finally I decided to take it," Ellie said.
The hunters moved within 57 yards of the still feeding buck, who was standing broadside.
Ellie tried to find an opening in the thick brush where she could get a rest for her Savage Axis 2 rifle in 243 caliber.
When she found an opening to shoot at the buck, there was nothing to rest her rifle on. After some discussion it was decided that she would use Kenny's shoulder to shoot from. Kenny lugged his ears and shut his eyes as he waited for the shot.
But it didn't happen. The young hunter in all the excitement had forgotten to take the safety off.
The buck moved and Ellie repositioned herself where the buck was once again in the open. Then she took aim, slipped the safety off, and fired. The shot was true, and the buck wobbled and fell over.
After photos were taken, the buck was pulled off the mountain and field dressed.
Ellie is having Down and Mount Taxidermy do a European mount on her first buck mule deer, while a local processor will turn the buck into some fine eating for Ellie and her friends and family.
Ellie was excited about taking her first buck and said she enjoyed the hiking that she had done and how she was able to find game on her own.