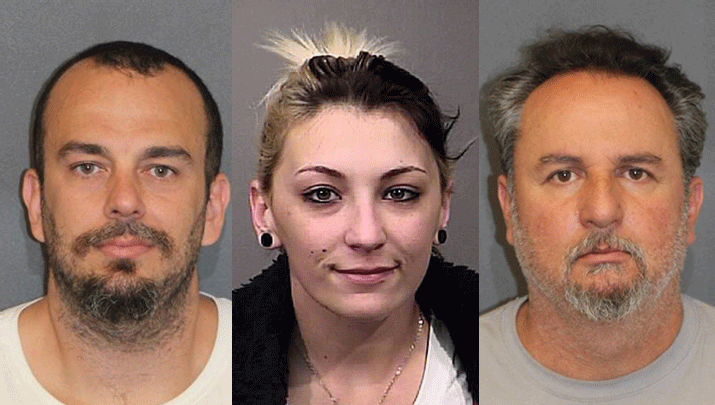 Originally Published: November 15, 2017 9:41 a.m.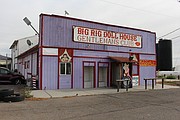 KINGMAN - An alligator is dead and two Kingman gentlemen's club employees are in custody this week, following a raid by nearly 10 state, federal and local law enforcement agencies.
John Monteiro, 38, and Jordan Peterman, 25, both of Kingman, each face multiple charges in reference to the illegal sale and distribution of marijuana, as well as money laundering after law enforcement officials this week executed multiple search warrants at a Kingman business and at least one private residence. The raid follows a four-month investigation by multiple law enforcement agencies including the Arizona Game and Fish Department, following reports that the suspects were in possession of an alligator. The creature allegedly died before a search of the suspects' place of business could be conducted.
Searches by law enforcement of the business and at least one Kingman residence on Monday yielded more than 25 pounds of marijuana, 15 marijuana plants, five firearms and three pieces of body armor; all of which were taken into evidence by law enforcement officials, according to the Mohave County Sheriff's Office.
According to a report from the Mohave County Sheriff's Office, Monteiro worked as a manager at Kingman's Big Rig Doll House gentleman's club, with Peterson a fellow employee. Using their positions on the club's staff, Monteiro and Peterman allegedly sold marijuana to customers within the venue. While both Monteiro and Peterman each possessed medical marijuana cards, neither was legally permitted to sell marijuana, according to the sheriff's office.
Monteiro and Peterman were each taken into sheriff's custody Monday and held on $25,000 bond. Each faces charges of conspiracy to sell marijuana, conspiracy to transport marijuana for sale, illegally controlling an enterprise, use of an electronic communications device in a drug sale, offering to sell marijuana, possession of marijuana for sale and money laundering.
Monteiro also is charged with possession of a gun during a drug offense.
An additional suspect, Manuel Williams, 52, of Golden Valley, was also arrested in reference to the investigation, and held on $10,000 bond. Williams is charged with conspiracy to sell marijuana and conspiracy to transport marijuana for sale. The extent of Williams' alleged involvement in the offences was unknown as of press time.
According to the Mohave County Sheriff's Department, charges against other suspects are pending. Agencies involved in the operation include MAGNET, Arizona GIITEM, the U.S. DEA, Arizona Department of Health Services, Arizona Liquor Enforcement, AZGF, ATF and the Kingman Police Department.
Game and Fish officials could not be reached for comment as of Tuesday evening.
Attempts to contact representatives from Big Rig Doll House by telephone were unsuccessful as of Tuesday evening.
More like this story