Originally Published: November 16, 2017 6 a.m.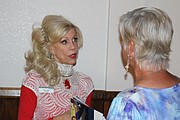 Sex trafficking has spread beyond Las Vegas, Phoenix, Los Angeles and other big cities into rural parts of Arizona, especially those fed by busy highways such as Interstate 40, an expert and victims' advocate said Monday.
The three most common myths about trafficking are that it happens somewhere else, it doesn't involve my kids and it's a victimless crime, Andrea Kadar told more than 40 people attending the Conservative Republican Club of Kingman monthly luncheon at Dambar restaurant.
Human trafficking is "modern-day slavery," a $150 billion industry with two-thirds of it for sex and one-third for labor, Kadar said. Roughly 27 million people are being exploited for economic gain throughout the world, and the number is growing, she noted.
"Most of these are young people who do not want to be trafficked," said Kadar, who started the Coalition Against Human Trafficking in Northern Arizona. "Why didn't they run? Why didn't they get away? They're under 18, they can't get a job, they're threatened."
Kadar, of Flagstaff, showed a 25-minute video with 18-year-old Brianna talking about how she got trapped in the underworld of sex solicitation through an older "boyfriend" who charmed her into leaving home and going to Seattle with him.
Another girl talked about being raped and filmed, with her perpetrators threatening to release the video to her school and youth groups if she did not conform to their demands.
Some sex trafficking victims are raped 3,600 times a year, with a $50 charge on the low end of the scale for clients. That's about $180,000 that each victim brings in for their pimp.
Yavapai County Sheriff Scott Mascher took an aggressive approach to find out if there really was a problem in Northern Arizona, Kadar said.
He recruited two attractive young female police officers from Glendale and used social media to advertise on a human trafficking website.
"He thought it would be crickets," Kadar said. "Amazingly, he got 422 calls from local buyers in Cottonwood, Prescott, Sedona and throughout Verde Valley."
Most of them backed out, but 38 buyers walked into the sting, including an emergency room physician, library assistant and retired policeman.
The results were undeniable. The demand for sex with minors is high in our own communities, and when there's demand, there's supply on the way, Kadar said.
It may be happening in Mohave County, but it's not prevalent or regular, said Lt. Stephen Padilla of Mohave County Sheriff's Office. He can't recall any sex trafficking cases being investigated by the Sheriff's Office in the 16 years he's been there.
MCSO has had three human smuggling cases since 2005, and handled 374 cases of illegal aliens since 2006, he added.
"On some of the illegal alien cases, there were multiple illegal aliens encountered on traffic stops and so forth," Padilla said. "As far as training, our officers have been through training which aids them on observing certain indicators of sex trafficking or human smuggling."
I-40 is considered a major east-west corridor and is used to smuggle humans, drugs and illegal contraband across the country, he added.
Girls and boys most at risk for sex trafficking are drug addicts, gays, foster children, runaways and those vulnerable to schemes like offers to become an actress or model.
Older boyfriends are often polished at coercing underage girls into a life of crime, buying them expensive clothes and jewelry, and pampering them with spas and dinners.
Kadar said parents should look for physical and emotional signs of sex trafficking with their children. Watch for bruises, cigarette burns, patches of hair ripped out, tattoos and language like "He's my daddy," or the girls in my "stable."
Parents should also monitor online friends and relationships, and see what kind of personal information and "selfies" kids are posting. You can purchase applications that monitor where their cellphones are and what they're being used for, Kadar said.
"They may scream bloody murder, but remember, we're the parents, they're the kids," she said.