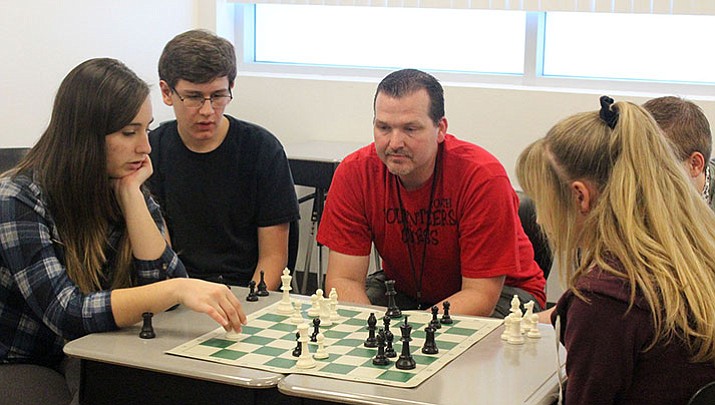 Photo by Beau Bearden.
Originally Published: November 16, 2017 6 a.m.
KINGMAN – Logan Masters has played chess since he was in the third grade. All of the hard work and dedication paid off Oct. 27 when he went undefeated in Tuba City to take first.
"It's really awesome being a region champ," Masters said. "I was really lucky to have the opportunity to go to regionals and get first place."
Masters isn't the only Volunteer to qualify for state though, as Paige Cody placed seventh, followed by Josh Taflan in eighth and Madelyn Fernandez in 13th. The four Lee Williams chess players will compete Friday and Saturday in the AIA Individual State Chess Championships at Palo Verde High School in Tucson.
Taflan has made the trip before and plans to lean on that experience.
"I think I've gotten better every time," he said. "I've learned from my mistakes and done better."
Fernandez, on the other hand, just started playing the game in the summer with the help of Zachary Romero and has made vast improvement.
"I started out in the bottom half and I was playing harder people," Fernandez said. "So just to work my way up to the top was one of my biggest accomplishments, especially for my first year playing."
Fernandez is hoping to keep it going for a great finish to her senior year.
"I've achieved much more than I ever thought I could have accomplished in the first place," she said.
Cody is also making her first appearance at state and is proud of how far she's progressed this year.
"I'm really excited," Cody said. "I didn't even think I was going to get this far."
Cody mentioned the most nerve-racking part of the state tournament is the fact she'll have family in attendance watching her play chess.
"I'm just going to play my best," Cody said. "Go with the flow and try to win."
One thing is for sure, she'll have the help of her fellow Volunteers on the long bus ride to Tucson. Masters is already aware of the difficult task ahead once they arrive.
"It will be a little more difficult because obviously it's state," he said. "There's more people going and higher levels of difficulty. Hopefully the things I've learned this year will help out."