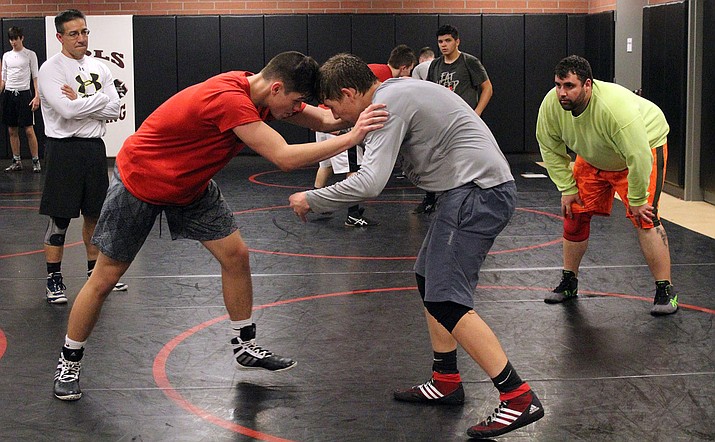 Photo by Beau Bearden.
Originally Published: November 17, 2017 6 a.m.
KINGMAN – Dan Ondrejka had no idea that the Lee Williams High School wrestling team would reach the level of success it did last season.
Not only did the Volunteers finish 30-14, but Nic Verville won the city's first wrestling state championship in 34 years. Those accomplishments will undoubtedly go down in the school record books, but it's the future effect that should have the biggest impact.
"Kids saw what it is to be successful in wrestling and you can have a successful program," Ondrejka said. "So we have kids in here wanting to work and be successful."
So far that goal is headed in the right direction as the Vols have averaged 30 wrestlers at practice – including returning state qualifiers Edmond Ashton and Dylan Shaffer.
While there are only four seniors this year, Ondrejka knows the team's biggest strength is dedication.
"We have kids that are learning faster than we've have ever learned before," he said. "Kids that are buying into the program and kids that are buying into what we're doing as a coaching staff."
However, the Vols do have one area that they need to work on before their season opener at home Nov. 29.
"Our biggest weakness right now is intensity," Ondrejka said. "It takes a little bit to get room going, but once they get going they look fantastic. If we can get over that hump, we're going to be great."
Ondrejka couldn't pinpoint one match or tournament he was looking forward to, but instead said he wants to bring home Lee Williams' first tournament trophy.
That, however, isn't the only goal that Ondrejka has for the 2017-18 season.
"I'm really looking forward to another great wrestling season," Ondrejka said. "And I'm looking forward to how KHS does too. Building Kingman wrestling was a big goal of mine when I ran the youth program in town. I think what (Kingman High wrestling coach) Brandon Clor is doing is great and what we're doing over here can put Kingman on the map for wrestling."
Kingman Bulldogs
The Kingman High School wrestling team is no stranger to sending Bulldogs to state after Ramon Chavez went 34-9 last season and took sixth place.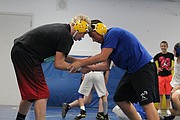 "We're looking up to Ramon Chavez with our young squad," Clor said. "Kalani Levrets will also be stepping up as a leader. We want to see that success transfer on the mat. We want to him to go to state, we want to get Ramon into the finals, and we want some of our younger guys to place at tournaments."
Chavez, Levrets and Dalton DeLong are the three seniors on this year's squad, but only one will be healthy when the season starts Tuesday in Lake Havasu. Levrets is out until early December with a broken hand, and DeLong is rehabbing an ankle injury.
Clor is still pleased with this year's squad that features a few journeymen in Paul Jones and Kenneth Becker along with sophomores Lucas Drummand and Jason Sorensen.
Kingman will still need some time for their young talent to develop.
"I don't really know what to expect with the younger, smaller kids, but we're working," Clor said.
As far as the crosstown rival Vols are concerned, Clor wants to avenge last season's losses after the Bulldogs saw their winning streak snapped.
"Lee Williams has a really good squad coming back," Clor said. "Dan Ondrejka does good work down there. The goal is kind of nipping at their heels as much as possible, and getting some success that way."