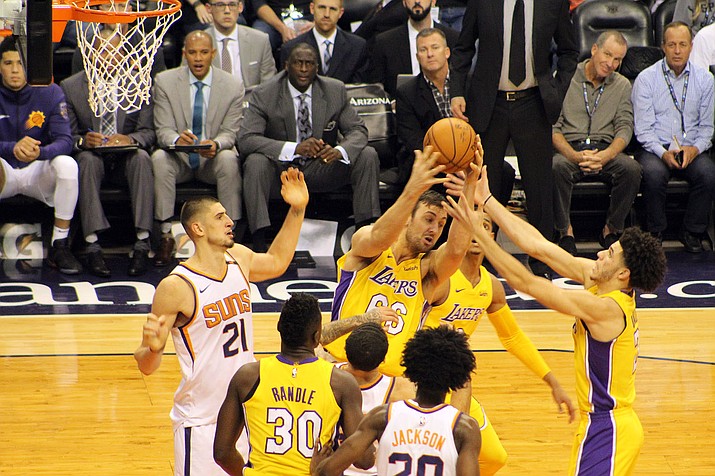 Photo by Beau Bearden.
Originally Published: November 18, 2017 6:08 p.m.
PHOENIX – Following the 2013-14 season, in which the Suns finished with a surprising 48-34 record and narrowly missed the last spot in the NBA playoffs, Phoenix has seen an overhaul of its roster while posting three consecutive losing seasons.
After guard Eric Bledsoe was traded to Milwaukee in early November, the only player remaining from the end of that season is 2013 fifth-overall draft pick Alex Len.
Veteran Jared Dudley, who lauded Len's improvement over the summer in pick-up games and training camp, said it is important to have somebody like the 24-year-old on the roster who has played with and learned from those who have had success in the organization before.
"It's always good to have people that have longevity in an organization because the culture is being set. Hopefully passing it on the right way, you keep it going, the structure and how we want to conduct ourselves," he said.
Len, who played professionally in Ukraine and for the University of Maryland before being drafted by the Suns, had a tough start to his rookie season. Though the team had its best record in the 2013-14 season since 2009-10, where it won 54 games and advanced to the Western Conference Finals, he averaged just 8.6 minutes and two points a game.
Now, as a rim-protector using his large body to box out effectively, Len has been a rare defensive anchor for the second unit of a team that has allowed the most points per game in the NBA.
"It started in Game 1I thought, and he just went in and rebounded the heck out of it,' interim coach Jay Triano said. "When he comes in and clears it all up, I think it gives the other guys confidence in playing defense that we're going to end up with the ball."
Triano has said the team's main goal is to "keep it real simple" for Len on the offensive end, where he rarely has set plays called for him but affects the offense by setting tough screens, finishing off of pick-and-rolls, and creating second-chance points by scoring off offensive rebounds or passing out to guards for more possessions.
"He's not really stepping outside of his comfort zone, and I think that's given him confidence," Triano said.
Scoring 8.6 points and grabbing 8.3 rebounds per game, Len's season averages are surpassing his career averages, but Triano said much of his production has come on plays that do not appear in the box score.
In the mold of starting center Tyson Chandler, Len credits his improvement to paying attention to the "little things," like emulating the veteran's defensive communication and hard fouls under the basket to deter opponents from attempting layups and dunks.
In his fifth year, Len said experience has helped him figure out where the ball is going to bounce off the rim better, but not before he put in the initial work in and out of practice.
"Watching film, game prep, all the stuff you need to keep just getting better at over time," he said. "Those are what count."
The hours spent studying old game tapes have paid off, as it has allowed him to have to think less and react more on the floor.
"If you don't watch film enough, and it's late in the game with five minutes left and you're tired, you don't always make the right move," he said.
Still, Len's performance, as well as statistics, have seen some major swings, like scoring a season-high 21 points against Orlando and following up with a four-point performance against Minnesota the next night.
Dudley, having played in the NBA since 2007, has seen plenty of new rookies come into the league, and said that consistency will be the key to whether Len continues to improve his game and remain a contributor for Phoenix moving forward.
"I think a lot of young guys, you have two or three good games, then you fall off again, get complacent, and that's something he hasn't done yet," Dudley said. "So hopefully he'll continue that."