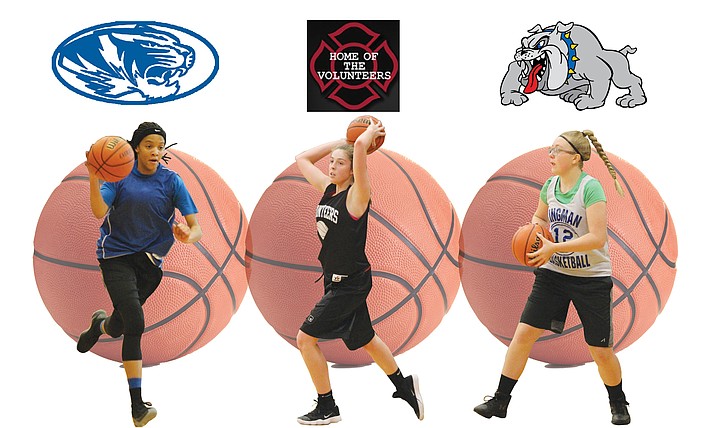 Originally Published: November 19, 2017 5:59 a.m.
KINGMAN – Despite returning four starters from last year, the Kingman High School girls basketball team is still unsure of how this season will play out as it doesn't have the benefit of a junior varsity squad. That means a number of younger players will have to step up, but head coach Tony Kern is optimistic that the Lady Bulldogs can find success.
"They're kind of getting thrown into the pool, so to speak," Kern said. "It's going to be really hard at first to build confidence. When you're confused or not quite sure, you don't have confidence. That's my biggest concern as far as the younger ones. But they'll get their confidence over time, it's just repetition."
Luckily, Kingman has five returners – four juniors and a senior – from a squad that finished 7-10 overall and 5-5 in the 3A West Region last year. The Lady Bulldogs just missed the state tournament, and they have their sights set on making it this season.
"This year we definitely want to get a decent seed and get into the playoffs," Kern said.
In order for that to happen, Kingman's youth will need to develop quickly and mesh with the experienced Lady Bulldogs. That is easier said than done, but Kern knows that it helps having returners who can bring the freshmen and other newcomers up to speed.
At the same time, it may take some time for Kingman to get where it wants to be.
"There are question marks with the new arrivals and even with the returning players," Kern said. "It's just getting back into the swing of it. That repetition is important – it's what really makes a difference."
One of the best opportunities for repetition is playing in a tournament. The Lady Bulldogs play in two in December, with the Pepsi Tournament in Flagstaff on Kern's radar.
"The Flagstaff tournament is always a good one," he said. "I really look forward to any tournament because that's where you learn who the team players are and if they're willing to go out there and do what's expected."
However, Kingman will have to get through the early part of its schedule first. The Lady Bulldogs open the season with a short trip to city rival Kingman Academy at 5:30 p.m. Monday, followed by their home opener at 5:30 p.m. Tuesday against Lake Havasu.