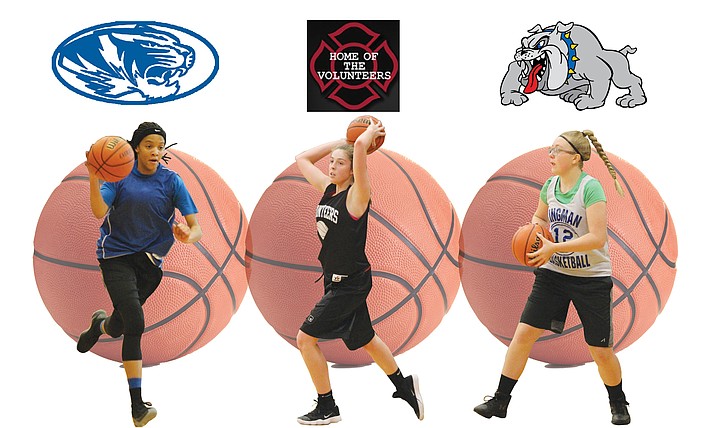 Originally Published: November 19, 2017 5:59 a.m.
KINGMAN – The Kingman Academy High School girls basketball team was just one win shy last season of making the play-in game for the state tournament.
The Lady Tigers needed to beat Parker, but lost by two points on the road. While that setback is in the rearview mirror, second-year head coach Garth Steed wants it to energize the Academy.

"This year we're hoping to add on that and make it to state," he said. "Of course that's a long way down the line. We have a lot of work to do to get there. Our conference is a lot more equal from top to bottom. Last year there were three teams at the top, but I think it's going to be a lot more even."
The Lady Tigers went 6-10 overall and 6-4 in the 2A West Region for third place last season. Parker was second at 7-3, Tonopah Valley was first at 10-0 and the rest of the region was under .500.
The Academy shouldn't have any issues finishing third or better as it returns 12 Lady Tigers from last year – highlighted by five seniors.
"Our senior leadership and depth are our biggest strengths," Steed said. "We only have 17 girls total, but we have 10 that got a lot of playing experience last year."
And in seeing time on the court, the Academy gained a better understanding of a new system. That will undoubtedly help the Lady Tigers this season and Steed has already seen progression.
"I told the girls that we're so much further ahead at this time this year than we were last year," he said. "Last year I had to come in and implement a new system. It took us a while to get going last year. By the end of the year we were doing a lot, but we're coming into this year building upon where we were last year. It's been a lot better."
While that may be the case, Steed is still adding a few new twists and knows that that cause some early growing pains. Nevertheless, the Academy will depend on its senior leadership to set the example and help the younger Lady Tigers catch on before region action starts.
"Overall, we just want to have fun and have the girls go out, play hard and enjoy it," Steed said. "If we do that, then we'll be able to compete every night."
The first test for the Academy is a 7 p.m. contest Monday at home against city rival Kingman, followed by a trip to Lee Williams at 7 p.m. Tuesday.
"We're looking forward to our first game," Steed said. "I don't know anything about Kingman. They don't have a JV, but they beat us last year. It'll be an opportunity to maybe get one against them that we haven't."
More like this story