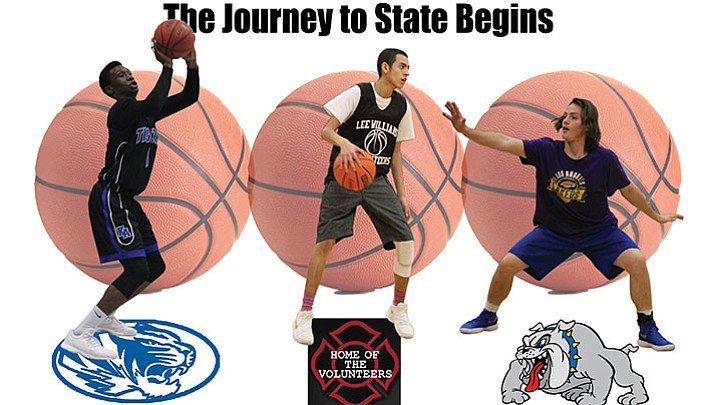 Originally Published: November 19, 2017 6 a.m.
KINGMAN – One year ago at this time, Cain Atkinson was preparing for his first season as head coach of the Lee Williams High School boys basketball team. Fast forward to now and Atkinson has the Volunteers poised for a breakout year.
"They know what I'm looking for, they know how I want them to play and the tempo I want them to play," Atkinson said. "Now I feel there is more leadership. It's more of a team. They're more willing to see stuff, talk to each other and try to get better."
Lee Williams finished 8-9 overall and 4-8 in the 4A Grand Canyon Region – ending its season with a loss to Flagstaff in the region tournament. The Volunteers return six players from that team, including four seniors in Marco Narvarte, Parker Taylor, Kael Juelfs, and Paul Giglio.
Those four will undoubtedly lead a Lee Williams squad that Atkinson knows will give 100-percent effort every night.
"One of our strengths is we work hard," he said. "One thing that I can hang our hat on is I know they're going to bust their butt for me. They're always going to work hard."
Atkinson believes the Vols are a fairly good defensive team, but they need to figure out when to speed it up or slow it down on offense. He also mentioned that minimizing turnovers will be a key area of focus.
It helps that Lee Williams has a number of talented players to rotate into the game, including two that he expects big things from in Marco Narvarte and AJ Herrera.
"We're deeper than last year," Atkinson said. "I feel more confident playing my bench players than I did last year. With the intensity I want to play with defensively, every single guy on varsity should play significantly. We'll see how that all plays out."
At the end of the day though, the ultimate goal is straightforward.
"My expectation is to win – plain and simple," Atkinson said. "I expect to play the right way, to play hard and that's pretty much it."
The Vols get some help in accomplishing that with the addition of former Kingman Academy High School boys basketball coach Brian Devincenzi.
"He has done a great job," Atkinson said of Devincenzi. "I'm extremely excited to have him just because I've never had the help. I've always had to be the one to see it all, do it all and know it all. To have that extra set of eyes and him having that experience of being a head coach is ideal."
Devincenzi's role was clear at practice last week, as he focused on coaching the big men, while Atkinson coached the smaller guys.
"I played at guard and I'm familiar in that position," Atkinson said. "And him being a post, I feel it really works well. I'm extremely excited."
Lee Williams opens its season at home Monday with a 7 p.m. contest against Parker. The Vols then travel to Kingman Academy Tuesday for another 7 p.m. game.
"We have to continue to get better every day," Atkinson said. "I hope it's a successful year."
More like this story