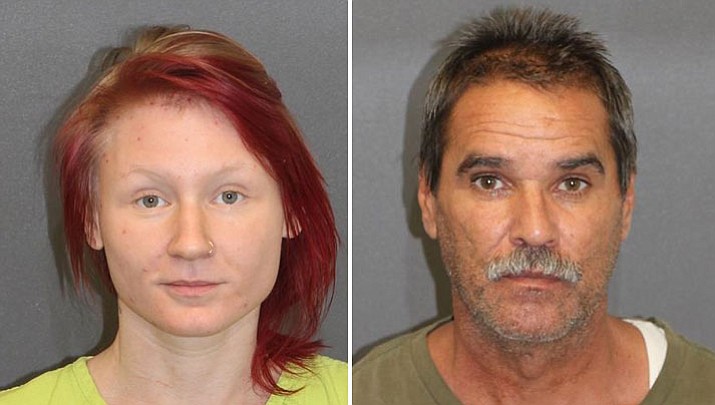 Originally Published: November 20, 2017 5:55 a.m.
Aggravated assault, resisting arrest
Mohave County Sheriff's deputies arrested Kelly Rae Alger, 22, of Kingman, early Monday on two counts of aggravated assault on law enforcement officer, two counts of resisting arrest, two counts of possession of drug paraphernalia, felonies, along with criminal damage per domestic violence, disorderly conduct per domestic violence, misdemeanors and active warrants, according to the report.
At approximately 12:24 p.m., deputies responded to an alleged domestic violence report at a residence in the 3700 block of Diagonal Way. The reporting party said Alger, her son's girlfriend, was damaging property inside her house. While en route, a records check showed Alger to have four post adjudication undesignated warrants issued by Kingman Municipal Court. 
Upon arrival, deputies made contact with Alger and informed her of her outstanding warrants. Alger continuously resisted as deputies took her into custody. Deputies observed a glass pipe and a digital scale on a nightstand where Alger was standing. Alger was attempting to slip one of her hands out of the restraints while she was seated in the patrol vehicle. As deputies were trying to adjust the handcuffs, Alger began screaming and kicking. Alger struck both deputies with her feet.
Deputies contacted the reporting party, a 67-year-old female victim. The victim said Alger was going crazy and putting holes in the walls. Deputies observed holes in the wall near the front door.
Alger was transported and booked into the Mohave County Jail without further incident.
Burglary
Mohave County Sheriff's deputies arrested Jeffery Ray Keller, 52, of Bullhead City, Monday for burglary, a felony, according to the report.
Investigation began Dec. 3, 2016, when deputies responded to a burglary report at a residence in the 4200 block of Los Maderos Drive. The victim said someone made entry into his house and had stolen a laptop, numerous electric hand tools and some change. 
Deputies observed a cracked window and a broken handle on the sliding glass door. Deputies observed blood droplets on the sliding door shades. Deputies collected and submitted evidence to the Department of Public Safety Laboratory. 
In late October deputies received the DNA results from the DPS laboratory which advised the blood belonged to Jeffery Ray Keller. Deputies attempted to contact Keller numerous times at a residence in the 3000 block of Locust Boulevard in Bullhead City without success.
On Nov. 3, at about 2 p.m., deputies contacted Keller at the residence. Keller advised that his friend left tools at the residence and he was helping his friend. Keller further advised that he cut his hand when the window broke. 
Upon further investigations, deputies contacted Keller's friend and he advised that he was not with Keller and he didn't leave his tools at that residence. 
At approximately 3 p.m., deputies contacted Keller at his residence where he was taken into custody without incident. He was transported and booked into the Mohave County Jail.
Door to door scam
Mohave County Sheriff's Office is warning the public of a door-to-door repair service scam. 
The victim believes the team of two Hispanic male subjects followed him home from a local store. The victim said that he was driving his Dodge truck when he returned home. The subjects knocked on the victim's front door and advised him that they could repair the damaged bumper on his truck for $370 and they would also include fixing two other dents on his truck. 
The victim agreed to the price and the team proceeded to repair his truck. The victim observed them working to pull out the dented bumper and several other small dents on the body of the truck. Later, the victim was advised that a heavy wax coat was left on the repaired areas which needed to stay on for at least two hours to cure. The victim reported that he removed the wax the following day to discover the repairs were not made and the dents could still be seen.
The subjects were driving a dark colored two-door Dodge pickup truck with loud pipes, magnetic red square signs with black lettering advertising their repair service. The male subjects are described as Hispanic, a middle aged man in his 50s with a close cut haircut and a younger man in his 20s missing a front tooth. The team also had a young boy, about 10 years of age, with them. 
Apparently, the subjects said their businesses are in Parker and also in Blythe and they travel to the river area to work on Snowbirds cars and RV's. The younger man provided the victim with his cellphone, which was not accepting phone calls when the victim later called the number.
This incident is believed to be a scam and the Sheriff's Office would like to caution residents. If you suspect fraud, contact your local law enforcement office.
More like this story