Originally Published: November 21, 2017 5:54 a.m.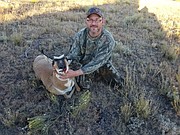 It is no secret that drawing an Arizona antelope tag is not an easy thing to do.

One just has to take a look at the bonus points list to see that there are sportsmen who have 25 bonus points and still haven't drawn a tag. That means over 20 years of unsuccessful applications.
So when I heard about a local sportsman and his two daughters who had applied and drew three antelope tags in Unit 7, I found it hard to believe. That was until I was contacted by Kingman resident Ronnie Bowen.
Bowen told me earlier in the summer that he, along with his daughters Shea, 15, and Stephanie, 11, had drawn three of the 48 tags that were issued for buck antelope in Unit 7.
The Bowen's had applied as a group, which meant any bonus points they had accumulated would be added together and then divided by three.
Ronnie had nine points, Shea had five and Stephanie had two. The group had 16 bonus points, plus the application point going into the draw, which meant the application had six points total.
Do you have any idea what the odds of their application being drawn were? There were over 4,000 applications for the 48 tags that were offered for that hunt.
Now here is where it gets really interesting. Under the 20 percent bonus point pass rule, those applicants with the max bonus points get 20 percent of the tags offered. So that means that the first nine tags that were offered were completely out of reach for the Bowen family.
They would only be eligible to draw from the remaining 39 tags available to anyone who was lucky enough to get a low number in the draw.
So how lucky were they? They got the first three tags that were up for grabs in the general draw; they had tags 10, 11 and 12.
With tags in hand, it was time to prepare for the hunt. That meant trips to the range to check the sights on the firearms and practicing from 100 to 350 yards.
Bowen said he had applied for tags in Unit 7 and Unit 9 as they had hunt dates that coincided with his daughter's fall breaks from school.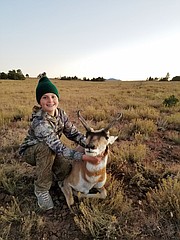 Shea is a sophomore at Lee Williams High School while Stephanie is in sixth grade at White Cliffs Middle School. Both are enrolled in the Cambridge program.
I should also add that Shea was an honor graduate of the Arizona Hunter Education class she attended, and Stephanie is also a recent graduate from the Hunter Education program.
Shea has already been on two deer hunts and a juniors' antlerless elk hunt. For Stephanie, this would be her first big game hunt.
Bowen said that he was familiar with Unit 7 since Shea hunted deer there on a juniors hunt. During her hunt, they had located several groups of antelope in the unit, so he felt he could find them again.
"My priority on the hunt was the kids," Bowen said.
He said it was the most scouting he had ever done before a hunt. Bowen said he was in the unit every weekend for about six weeks leading into the hunt. Bowen attended a clinic put on by the Arizona Antelope Foundation to learn all he could about antelope hunting in Arizona.
Bowen read everything he could find from the Arizona Game and Fish Department about the unit and that he had enlisted the help of some friends to help on the hunt.
On Day One, the trio found some antelope and it was decided that Stephanie would get the first opportunity. They got on a buck, which she unfortunately missed, but there was still plenty of time left in the hunt.
On Day Two of the hunt a close friend of the Bowen's agreed to take Shae out, while Ronnie would take Stephanie out. Shea got in position to take a tall, mature buck and she dropped him with one shot from her Tikka rifle in 243 caliber at a range of 200 yards. It ended up being the largest buck the trio would take.
Ronnie and Stephanie did a lot of hiking and putting stalks on several bucks, but no shots were fired for several days. As a matter-of-fact it would be five more days before the young huntress would get another chance at a buck. It was Day Seven and Ronnie and Stephanie spotted a group of 8 antelope with one buck. Stephanie was now using the Tikka 243 that Shea had used to take her buck.
Bowen decided to go after the herd and after a long stalk was able to get Stephanie within 125 yards of the buck. The buck was slightly quartering away and Stephanie was steady on a tripod when she fired.
The shot was on the money and the young hunter had her first big game animal.
With two bucks down, Ronnie decided to bring the two antelope back to Kingman where a friend that he works with offered to process the two bucks.
Then the next morning he returned to the field.
Ronnie had a friend with him and he knew that he had just a couple of days left to hunt. But Ronnie was not really worried as he knew there were more antelope in the area.
They checked a water hole for sign and as they were leaving saw a single buck with two does close by.
Bowen started on a stalk that would take him on another long walk. But finally, he was able to get within 200 yards of the buck, and one shot from his Winchester Model 70 in 30-06 caliber and the hunt was over.
The Bowen family had beaten some huge odds in drawing the tags they had, and as a family they hunted hard. But the reward was three nice bucks and memories that will last them a lifetime.