Originally Published: November 21, 2017 3:53 p.m.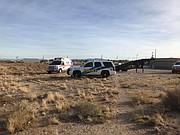 KINGMAN – Kingman Fire Department said a man jumped from the bridge on Hualapai Mountain Road to the train tracks Tuesday morning.
KFD says first responders from Engines 211 and 221, Rescue 215, and Battalion 2 were dispatched at about 8:40 a.m. and found a male lying near the train tracks, which are between 40 and 50 feet from the bridge.
A technical rescue team moved to bring the victim to a safe location. KFD reported the victim sustained multiple fractures and lacerations, but any internal injuries could not be confirmed.
American Medical Response transported the man to Kingman Regional Medical Center.
The fire department says the man was transferred to a Las Vegas hospital.
The incident is under investigation.
More like this story