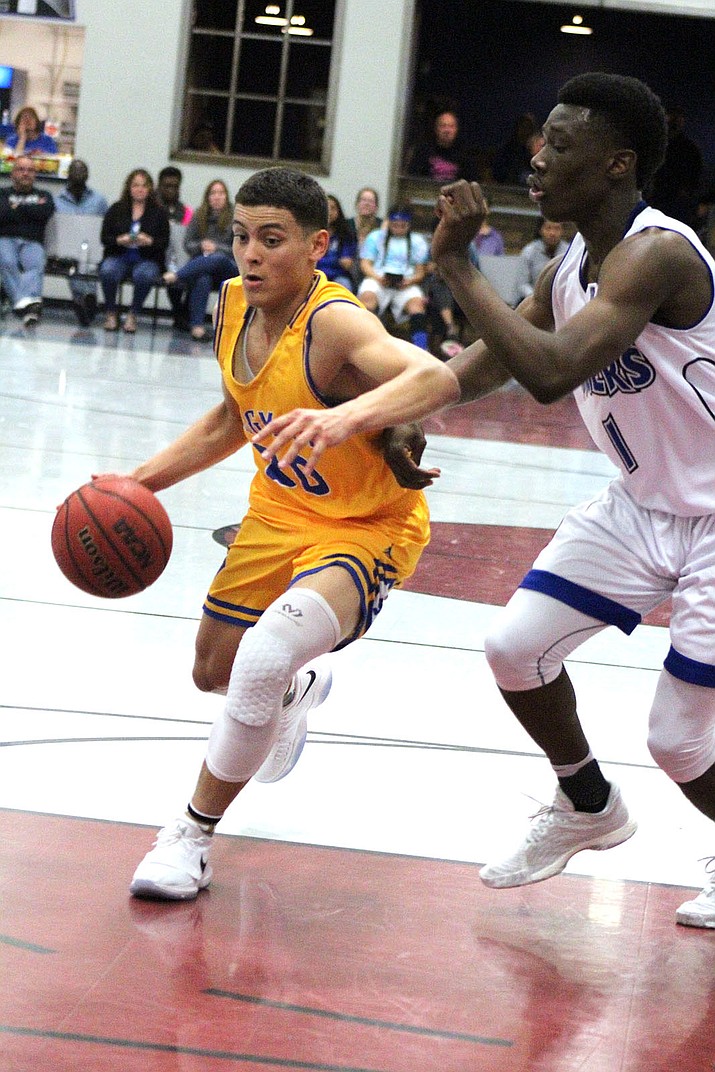 Photo by Beau Bearden.
Originally Published: November 21, 2017 4:12 p.m.
KINGMAN – It was only fitting that the Kingman and Kingman Academy high school basketball teams battled back-and-forth Monday night in a 40-minute, double-overtime affair. The two rivals gave fans plenty of high-energy action in a game that the Bulldogs won 66-64 at KAHS.
Photo Gallery
Boys basketball: Kingman at Kingman Academy - Nov. 20, 2017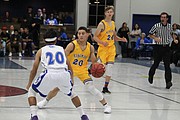 The Kingman High School boys basketball team defeated Kingman Academy 66-64 in double overtime Monday night. Photos by Beau Bearden.
"It just shows how hard we want to work to get that W," said Kingman's Elijah Howery. "None of us gave up. We all sat on the bench cheering for each other. That's what Bulldogs do."
Neither team wanted to lose, but each had plenty of opportunities down the stretch. Kingman had a shot to win it in regulation, but couldn't sink the buzzer-beater. The Tigers had their chance in the final seconds of the first overtime, but came up empty.
It even appeared that the game might go to a third overtime, but the Bulldogs held on for the season-opening victory.
"That's definitely going to go up there as one of my more memorable games," said Kingman head coach Nick Juby. "I'm glad we came out with a win on that one."
It wasn't easy for the Bulldogs though, as Kingman Academy's Tyler Chinyere scored a game-high 47 points.
"He's here to play these games – the fella is a gamer," Tigers head coach William McDavid said of Chinyere. "His legs were a little bit tired, but's that nothing to him. He put our team on the map a little bit. We let them know we're here to play."
Fatigue, however, did affect Chinyere as he missed six straight free throws in the first overtime period. He did answer back by making two-of-three with 10 seconds remaining in the second overtime. His third attempt was successful, but a lane violation nullified it and the Bulldogs held a 64-63 advantage they would never surrender.
"I couldn't be more proud of this group of guys," Juby said. "Their chemistry, their camaraderie, they're just all there for each other. They picked each other up. It was a total team effort."
Howery led Kingman with 23 points, while Nate Lawson scored 18 and Quanah Quasula added 12 points.
"Everyone played their role," Juby said. "We're undersized, but I thought for the most part we did a pretty good job limiting their second-chance points."
An unlikely hero also stepped up for Kingman (1-0) late in the game after Tobias Bagby fouled out.
"Jacob Martell played 11 or 12 of the biggest minutes of his life and he played great," Juby said.
While the Academy (0-1) fell in overtime, McDavid thought the defense played tremendously.
"Zach Matthes and Donny Tatham worked really well together in our zone," he said. "When Elijah Howery was driving in, we contained him as much as we could."
At the end of the night though, it was fatigue that ultimately proved to be the difference-maker.
"Every game is a learning experience," McDavid said. "This experience recognizes that maybe we need to condition ourselves a little more, to make sure we have lungs in case we get to a double overtime game."
More like this story