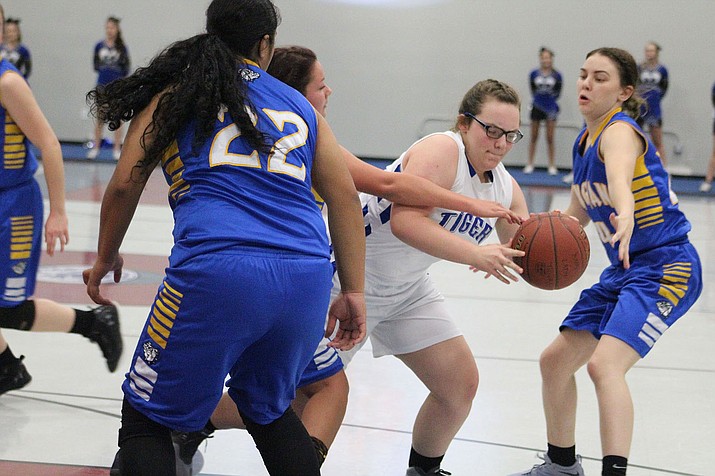 Photo by Beau Bearden.
Originally Published: November 21, 2017 4:10 p.m.
KINGMAN – The Kingman Academy High School girls basketball team had never tallied a win over Kingman High in the previous nine meetings. That streak came to an end Monday night as the Lady Tigers used a fourth-quarter run to defeat the Lady Bulldogs, 51-46, at KAHS.
Photo Gallery
Girls basketball: Kingman at Kingman Academy - Nov. 20, 2017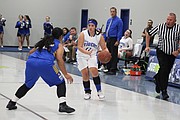 The Kingman Academy High School girls basketball team opened its season Monday with a 51-46 win over Kingman High School. Chloe Elliott led the Lady Tigers with 17 points, while Kingman's Courtney Mossor led all scorers with 21 points. Photos by Beau Bearden.
"The first game butterflies were definitely there in the beginning," said Academy's Chloe Elliott. "But once we started doing well, we realized we could win the game. … This will set a good tone for the rest of the season."
Elliott made her first varsity start a memorable one as she was an instrumental part of the Lady Tigers' 8-0 run early in the fourth period that pushed its lead to 45-36 with 4:47 to play in the game.
"We missed a lot of shots – a lot of easy shots," said Academy head coach Garth Steed. "Some of those started to fall during that run. That was the difference. Realistically, we probably would have beat them by 10-15 points if we we'd made half of our gimmies, but we just missed a bunch of those."
Elliott picked up some of the slack for the Lady Tigers in the fourth quarter – scoring 10 of her team-high 17 points when it mattered the most.
The Lady Bulldogs didn't go down without a fight though, inching within two points, 47-45, on Courtney Mossor's basket with 1:20 remaining. Kingman (0-1) wasn't able to get any closer as the Academy (1-0) allowed just one point down the stretch to get the win.
Kiersten Edwards finished with 10 points for the Lady Tigers, while Canya Thompson scored eight, and Kassidy Campbell and Emily McCracken each added five.
"We're a way better team than what we showed tonight," Steed said. "We had a lot of things we can chalk up to it being the first game. Hopefully we can build on this win and play like we're capable of playing. But I'm happy – it's a win and they came out and played well."
Mossor provided a bright spot for the Lady Bulldogs with a game-high 21 points, while Kearra Tauta added 16 and Payton Chamberlain chipped in five points.
Kingman held an 11-10 advantage after the first quarter despite allowing the Lady Tigers to start the game on an 8-0 run.
Mossor stopped the drought for the Lady Bulldogs at the 5:06 mark of the first quarter with two free throws. She continued to find the hoop in the first half, scoring 15 points to give Kingman a 25-20 lead at the half.
"Mossor is a beast," said Lady Bulldogs assistant coach Hank Diaz. "That's our senior leader. I hope she continues to lead the way she's been doing because she is a very good asset to this team and the girls look up to her."
Unfortunately for the Lady Bulldogs, Mossor only scored six second-half points and couldn't find a way to get the victory.
"It was tough, really tough," Diaz said. "We had some miscues that cost us. We lost three possessions in the final three minutes that kind of hurt us. It comes down to execution. The girls didn't execute the way they were supposed to and ultimately the Academy did. That was the difference."
More like this story