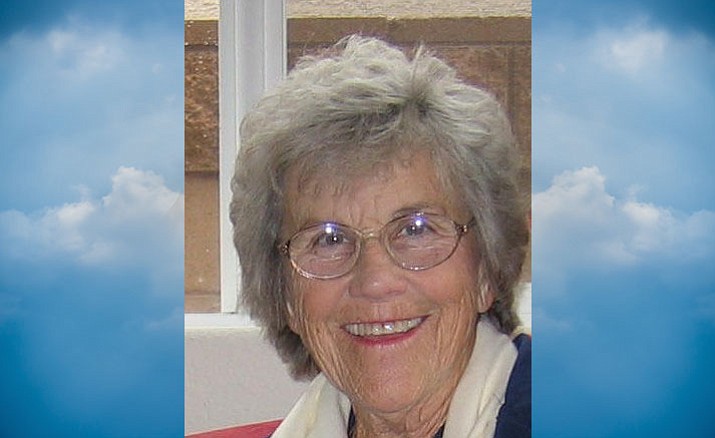 Originally Published: November 22, 2017 6 a.m.
Virginia led an inspired, well-lived life up until the time of her recent death. She serves as an example to all of us who knew and loved her that by giving more than one receives, by taking risks supported by a faith in God's good grace, and a belief and reliance on one's own gifts and determination, supported by the love and care of family, friends, community, and the unexpected guidance and sharing of acquaintances and strangers we may meet along the road of life, can result in an awesome journey in this world – one that can be described as truly "a dream come true".
Born the fourth child in a family of six in Sherman, Texas, Virginia was brought up in the Panhandle of Texas until her young womanhood. Her family imbued her from the start with courage, faith, open heartedness, resolve, intelligence, wry humor, a love of music and dancing, as well as a degree of independence and feistiness that would serve her well throughout her life. She was a woman who met the expectations of the multitudes of women during her era, and yet surpassed those expectations at every turn when it was not easy to do so. She achieved this through her keen insight and humanity, her ability to make a friend of one and all, her ability to withdraw quick judgement and instead, respond with openness and a positive can-do attitude, and her exceptional charm. These qualities were present throughout her life, including her eight year battle with the debilitating disease of Alzheimer's dementia from whose ravages she managed to maintain a degree of self that was often hard-won and even harder to display to those around her because of the effects this disease brings to its sufferers.
Virginia's early adulthood began with her 32 years of marriage to Marshall Nelson (recently deceased), which produced three children, one of whom died before the age of two years. This heartache stayed with her throughout her life. However, she was a devoted mother, whose dedication included daily meals around the family table, talented seamstress who made her children's clothes, and fully participant parent in her children's play and school activities, including serving on the PTA and being a Scout leader. She also enjoyed camping, fishing, boating, water skiing, golfing, dancing, playing cards and the like. She was a fun mom! At the same time, one whose standards and expectations left no doubt that her children should become their very best selves in life.
When the family relocated from Texas to Bullhead City, Arizona in 1967, Virginia transitioned from homemaker to the owner/proprietor of a bookkeeping and tax business. Her hard work made her business a success in no time flat, and she was invited to become the designated accountant for Holiday Shores Land Development. It was during her tenure with this business, that Virginia's love and passion for real estate took form. And, it should be noted that during this time, her keen mathematical abilities resulted in her designing, constructing and project managing a new family home first-hand with the help and aid of her husband and parents. This home remains solid and in use to this day!
In 1976, the family relocated to Kingman wherein Virginia truly began to undertake her real estate passion by becoming the owner/ broker of an E.R.A. Franchise for approximately the next 20 years. She scaled to the top of this field through dedication and hard work, but what she voiced most about this time in her life was the joy she got by selling many Kingman families she served their first home. By helping those in the community, who may, at that time, have had a hard time buying their first home – simply inspired Virginia to find a way for them to do so. Thereafter, she opened the first International Realty Plus franchise, managing its local office and selling its other franchises nationwide. During these years, she also chose to become an active and involved community member by serving as a KUSD board member, an active participant in the Kingman Republican's Women's Club and a Soroptimist member.
Upon retirement, Virginia became an avid and exceptional golfer, who enjoyed participating in tournaments and playing courses throughout the U.S. Her special love was toward the teaching of junior golfers as she thought the discipline of the game, its etiquette and its competitiveness could only bring out the best in young people, and provide them with skills that would serve them well into adulthood. Another true joy of hers was to play partner with a very elderly, active, woman golfer on a somewhat daily basis for quite some time. She stated, "To be able to grow so old, and still be active was to be admired and supported."
Other lifelong pursuits which she was able to more thoroughly enjoy during these years included: "dirt therapy" where anything she planted grew exceptionally and still does today; annual trips to fun and exciting places with her lifelong childhood friends, Myra, Glenda, Lily and Charlene (deceased); travelling with her daughter and her partner to fly fish, body surf, play golf, go dancing, and explore historical sites; partaking of her favorite holiday – Christmas – with her son, his wife and their children, and being an involved grandmother who always attended her grandchildren's events and activities throughout their young lives. Virginia was blessed to hold many a great grandchild when her grandchildren started families of their own. She also served as a pseudo-grandmother to many a younger friends' children whose own grandparents were not alive or lived too far away to attend. Regardless of time of day, Virginia's door was always open to friends and family for a listening and supportive ear, a helping hand or any other need.
Then, just to show us all that old age does not portend of dead-end days, Virginia made the acquaintance of her dear friend and companion, Lori Cormier, who was just as exceptional as was Virginia, having been one of the earliest women pilots in the U.S. Air Force at a time when they had to pay for their own flight lessons. Lori and Virginia, as well as their circle of friends, enjoyed all that Las Vegas has to offer, as well as group RVing, music playing, singing and dancing, fine dining, shows, etc. They enjoyed life to the hilt, but alas, it was not to be but a few years before Lori died suddenly as did several of their group, and Virginia began the onset of dementia. While she fought it valiantly even while eventually struggling to communicate, surprising us all with moments of true clarity and always expressing her love through her eyes, her tender touch and her boundless spirit. We thank Lori for all the love and support she provided to Virginia and her family. She was a blessing to Virginia's life.
Virginia was a blessed individual even though she experienced her fair share of heartache and pain, as we all do in this life. She lived by the tenets described in "The Velveteen Rabbit," a noted children's book of past which states: "What matters most in life: Love, relationships, and empathy for ourselves and others."
She is preceded in death by the following: father, Ira Orin Judd; mother, Augusta Ophelia Hughes Judd; siblings, Jimmy Judd, Jane Davis, Joe Judd and Martha Prater; daughter, Susan Michelle Nelson.
Virginia is survived by the following: son, Dr. Frank Nelson (Kristin); daughter, Denise Nelson (Terri H. Williams); grandchildren: Stephen Nelson (Katie & 4 children); Amber (Dr. Kerry Burgess & 5 children); April (Dr. Roderick Davies & four children); Garrett Nelson, PhD (Kylie & 1 child); and Jordan Nelson (Rachel); Brother, "Baby Huey" Jerry Judd (Pat); brother-in-law, Gene Prater; sister-in-law, Dottie Judd; Sister-in-law, Barbara Nelson; Extended family, including several nieces and nephews and others embraced as chosen family.
With heartfelt gratitude, special recognition is made to the following: care partners at La Bella Assisted Living Facility; devoted friend, Brenda Stewart, who visited weekly throughout Virginia's stay at La Bella; KRMC Hospice team; friends and family in attendance during Virginia's last days; all who attended her recent Celebration of Life event; "Special Mom," Mary Jane Nelson (Marshall Nelson's wife), whose care and support have been heartfelt, and above and beyond; those who sent cards; those who contributed in memoriam to the Cerbat Cliffs Golf Course Junior Golf League Program, or other charitable organizations; and Sutton Memorial Funeral Home, and Mountain View Cemetery for burial arrangements.
Throughout her life, Virginia loved Angels of all types. She was blessed to have had a few of them in her worldly life. While we shall miss her in our hearts until we are long gone, we believe she has joined a chorus of angels in the hereafter to which she will serve as Pied Piper helping them to soothe the tears and grief of those she leaves behind.
Farewell, sweet Virginia - We quote you in closing, "If people ain't talking about you, then you're just plain boring."
More like this story