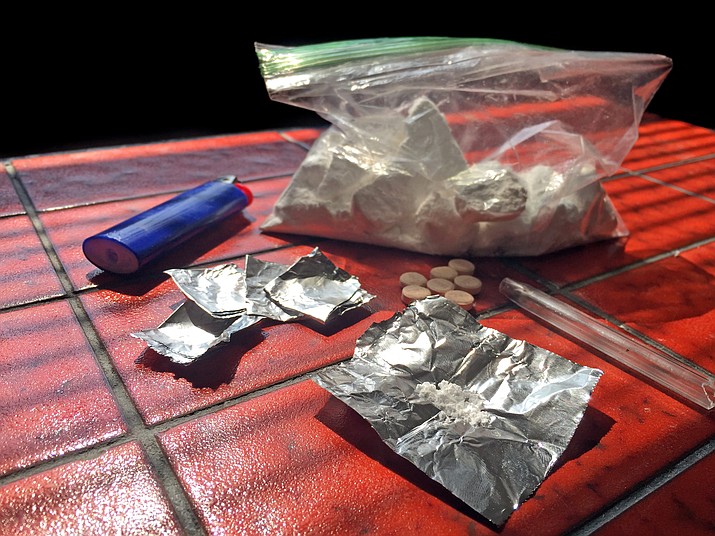 Originally Published: November 22, 2017 6 a.m.
A reading of the Mohave 911 page in the Monday editions of the Kingman Daily Miner, the page shows local residents facing charges for possession or use of drugs and along with those, charges for drug paraphernalia.
There's no specific list of objects classified as drug apparatuses. So what makes an everyday object, like a cardboard toilet paper tube, drug paraphernalia?
According to the Ryan Dooley, a prosecutor with the Mohave County Attorney's Office, the main distinction is intent.
"It depends on how you use that object," Dooley said. "The statute is very broad, and it identifies that it is about how you use it."
According to A.R.S §13-3415, "Possession of Drug Paraphernalia," it is "unlawful for any person to use, or to possess with intent to use, drug paraphernalia to plant, propagate, cultivate, grow, harvest, manufacture, compound, convert, produce, process, prepare, test, analyze, pack, repack, store, contain, conceal, inject, ingest, inhale or otherwise introduce into the human body a drug."
Prosecuting attorneys can prove intent through statements, testimony, proximity to drugs and prior convictions, according to Arizona law.
In a case prosecuted by state attorney Jonathan Hale, State vs. Vose, a dresser drawer found to have marijuana residue inside was listed as a drug paraphernalia item. There were other drug apparatuses involved with the discovery.
Drug pipes, baggies, razor blades, and spoons are other examples of drug paraphernalia that are everyday objects until associated with illegal substances. Something like a dollar bill could also count if related to a substance, such as cocaine, could be proved.
"Could somebody's pants pocket be considered paraphernalia," Dooley explained. "Technically it could be, but how often would we charge that? Possession of paraphernalia is less of charge (Class 6 felony) than drug possession (Class 4 felony), and it's about grabbing the low-hanging fruit, which is the higher charge. If the drugs were loose in the drawer, maybe."
First- or second-time convictions are protected against prison and jail time by Proposition 200.
"That means a first-time drug offender cannot go to jail or prison, except for meth," Dooley said. "If it's their first time there is no jail or prison time. A second conviction they are eligible for jail, and a third one they are eligible for jail and prison. This does not include meth."
Sentences for paraphernalia also have to run concurrent with the sentence with the drug charges in a given case and are the same amount of time.
Often, drug paraphernalia charges are dropped in plea deals.
Exceptions to Prop 200 protection include selling drugs, violence, and methamphetamine related charges.
If a person were to assault someone and upon arrest it was discovered they had marijuana, that person could be eligible for jail and prison based on the violent offense.
A scale, used for weighing drugs, could also count as paraphernalia.
Arizona's laws are similar to Utah and New Mexico, but California, Nevada, and Colorado have made marijuana legal. Colorado law says "possessing, using, displaying, purchasing, or transporting marijuana accessories" is legal.
A Class 1 misdemeanor for drug paraphernalia can mean jail time up to six months, and the Class 6 felony charge can be four months to two years in prison with the presumptive being one year.
In Mohave County, paraphernalia can only be paraphernalia if the intent to use drugs is proven through due process.
"If it has drug residue on it, it's drug paraphernalia," said Dooley.
Daily Miner editor Shawn Byrne contributed to this report.