Originally Published: November 24, 2017 6 a.m.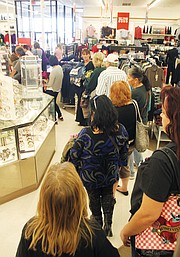 The shopping frenzy known as Black Friday created by the nation's major retailers drives people out of their homes and into malls and shopping centers before Thanksgiving dishes have been washed and dried.
Stores such as Walmart opened Thursday night for shoppers who want to beat the rush for doorbuster deals.
And with Cyber Monday's online shopping grabbing an increasing share of Christmas sales revenue, Black Friday has lost a little luster. There has also been a movement of consumer backlash against sacrificing family time to fight traffic, crowds and madness to save a few bucks.
Nonetheless, millions of people get up in the middle of the night to be first in line for TVs and video games that are marked down to once-a-year sale pricing.
"I think it's the urgency," said Gary Christopher, owner of Home Style Furniture in Kingman. "You've got to do it Friday to get a better price. So it's the urgency and excitement of Black Friday. You've got to get it while you can get it."
Walmart, always a major Black Friday destination, has deals that span the gift-giving spectrum, from big-screen TVs to gaming systems, clothes and toys. It started online at 12:01 a.m. and hit the stores at 6 p.m. on Thanksgiving Day.
Some of the best deals, according to BlackFriday.com, are the Samsung 40-inch Class 4K Smart LED TV for $328, Nintendo Switch gaming console with neon blue and red Joy-Con for $299, and Hoverboard Ultra electric self-balancing scooter for $148. Select DVDs are $5.
A survey of more than 1,000 consumers by BlackFriday.com highlighted the following trends for Arizona:
Quality of product (37 percent), lowest price (27 percent) and a friend's opinion (16 percent) are the top three motivators of holiday purchases.
Convenience beats better prices on reasons to shop at a new retailer for consumers in Arizona, while better price is the top motivator nationally.
Over half of Arizona shoppers (51 percent) will check Amazon before looking or buying anywhere else, on trend with national data as 55 percent of U.S. consumers said they would price-check on Amazon before making a purchase.
Arizona also follows national trends when it comes to the most coveted retail perks, with 38 percent of the state's consumers claiming that free shipping is the biggest perk they hope to take advantage of during the Christmas shopping season.
Top products for Arizona shoppers on Black Friday are tablets, laptops, personal computers and televisions (14 percent). Clothing was 11 percent. On Cyber Monday, it's clothing (21 percent) and travel (16 percent).
Shop Small Saturday
The Kingman Area Chamber of Commerce encourages consumers to patronize local businesses on Shop Small Saturday, which falls between Black Friday and Cyber Monday.
Small business is the backbone of the U.S. economy, and 70 cents of every dollar spent stays in the local economy, according to American Express. The credit card company started Shop Small Saturday in 2010 to spur consumer spending at smaller, independent retailers.
Shop Small Saturday has evolved into a Christmas shopping tradition driven by millions of consumers and it continues to catch on across the nation. In 2016, an estimated 112 million people came out to shop on that Saturday.
More than 20 small business owners from downtown Kingman and the hilltop will set up vendor booths at 10 a.m. Saturday at Beale Celebrations, 201 N. Fourth St., and local shops such as Savon Bath Soaps, Black Sheep Tattoo, Farmhouse and Gracie's are offering specials throughout the day.
"I get that there's great deals at Walmart, and I'll be out shopping on Black Friday too, but we tend to forget around this time of year that we have great shops around here," said Jason Millin, membership director of Kingman Area Chamber of Commerce. "We have these artists and craftsmen that have specialty things."
Downtown Kingman has a number of antique and vintage clothing stores, and a new turquoise jewelry store has opened.
"Every year I try to get something for the family that isn't always brand new, but it's new to us," Millin added. "It may be something old that your wife or mother would love to have."
Christopher of Home Style Furnishings said it's important for Kingman residents to buy as much as possible from local retailers as the city gets most of its revenue from sales tax.
"The competition is so great as far as Vegas," he said. "You've got to try to buy local. Some things you can't."
Home Style Furnishings has loyal customers in Kingman, Christopher said, and he's going to do his best to make a sale here and keep them from going to Las Vegas.
"You listen to what they want and if you don't have it, you find it," he said.
A survey by the National Federation of Retailers and American Express found that 77 percent of U.S. consumers will shop small on Saturday, and 80 percent of them are willing to pay slightly more for the same item purchased at a small business.
More like this story