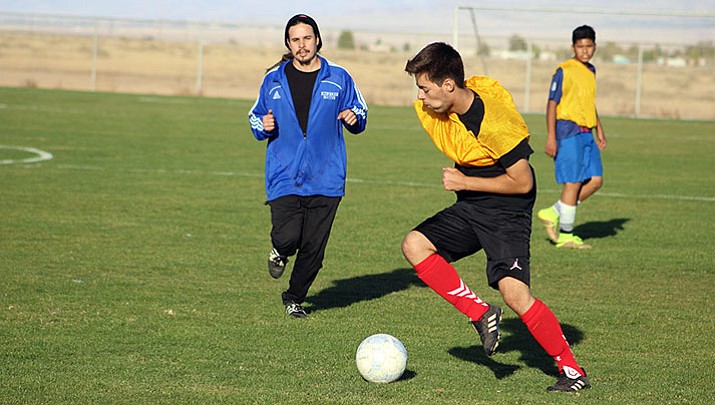 Photo by Beau Bearden.
Originally Published: November 26, 2017 5:58 a.m.
KINGMAN – When a team graduates 12 seniors, it's difficult to know where the season is headed.
While that might be the case for Kingman High School boys soccer team, second-year head coach Kevin Roberts is keeping a positive outlook.
"We finished in second place last year and we were one game away from first," he said. "I'm trying to get in same phase. We have River Valley, Wickenburg and Parker. I know those teams are young as well, so we should be in good competition with them."
It still won't be easy for the Bulldogs as they return just four players from a team that went 8-4 overall and 6-2 in 3A Region 6 last season. However, Roberts has faith in seniors Ivan Lira and Christian Lizardi being an instrumental part of the team's success this year.

"My team captain Christian Lizardi is in the back – I have him as a sweeper now," Roberts said. "He used to play outside defense, but he's really taking control of the team as far as leadership."
That will pay dividends for Kingman as there are just seven upperclassmen on a young team. While that leaves some question marks, it allows players to not rush the development process.
"The main thing is getting these kids to understand the program and what I'm expecting of them," Roberts said. "Getting them to know their positions and getting them out there on the field to play."
The fact that a few freshmen made varsity should also help with the overall goals of the program. The Bulldogs look good long-term, but their depth this season is one area that Roberts knows could be an issue.
"We don't have the deepest bench, but we actually got a couple of other seniors that joined the squad," he said. "Having those upperclassmen is really going to let these younger guys step up on the practice field."
With that said, Kingman is hoping it can stay away from the injury bug with limited numbers. That is never a guarantee and all the Bulldogs can do is take it one game at a time.
The first test for Kingman is 6 p.m. Tuesday at home against rival Lee Williams. The Bulldogs won both meetings over the Vols last season and will look to continue the streak.
However, Roberts has a few other opponents in his sights.
"Truthfully, I'm looking forward to Mohave because I know they can play and they're well-coached," he said. "They are a 4A school and we also have Lake Havasu, which is a 5A school. So if we can get a win against one of them, that's going to boost our power points up. That's why we didn't make state last year. We were No. 13 in the state, but our power points didn't take us to the tournament."