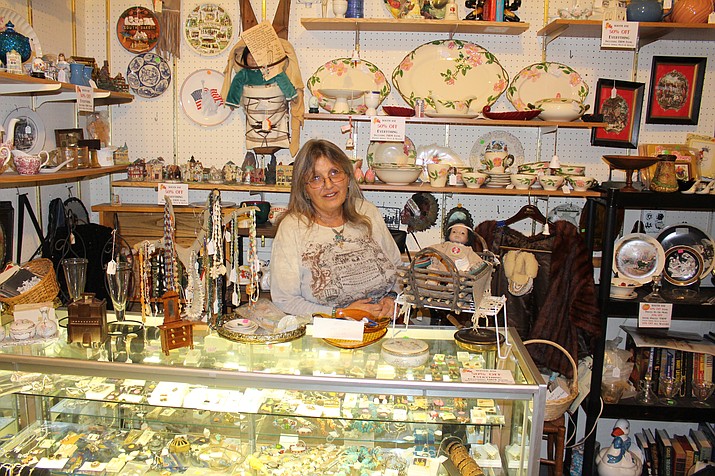 Photo by Hubble Ray Smith.
Originally Published: November 28, 2017 6 a.m.
KINGMAN – It was no match for Black Friday, but heavy promotion and marketing for Shop Small Saturday increased customer traffic and proved to be a successful day for several downtown business owners.
Leah Burkhart, owner of Gracie's Vintage at 209 N. Fourth St., said her store was "super busy" with at least 200 people coming through the door and boosting holiday sales.
A lot of the business owners came together, especially on social media and web sites, to promote Shop Small Saturday and to cross-market each other's business, Burkhart added.
Kingman Area Chamber of Commerce organized a Shop Small Saturday vendor expo at Beale Celebrations, giving away promotional items such as cloth shopping bags provided by American Express, the credit card company that initiated Shop Small Saturday in 2010.
Shoppers were buzzing about all the cool things they found at the collection of antique, boutique and second-hand stores that make downtown Kingman a unique shopping destination.
Handmade crochet hats were selling big at the Farmhouse, 317 E. Beale St., where 90 percent of the merchandise is made by local vendors, owner Barb Charon said.
"We are so thankful and humbled by the community's support of our little store on Saturday," Charon said. "We had five times our normal amount of sales. That's a huge number."
People were coming into the Farmhouse one after another, probably around 700 total, similar to the crowds that were lined up outside the door a couple of weeks ago for Christmas to Remember.
"I believe it's people supporting small mom-and-pop shops," Charon said. "You're paying for dance lessons and baseball lessons. You're not buying a house for a CEO on some island."
"I thought it was really great," said Mary Wise, owner of Time Was Antiques, 427 Beale St. "We had over 100 people. That's a lot of people. A good Saturday is 50 to 60. I noticed a lot of people had Shop Small bags. That was really a draw for downtown."
Thanksgiving is always a big weekend for people to come downtown, with a lot of out-of-town visitors, she added.
"They were buying. I can't say it was exceptional," Wise said.
Grace Van Horn has been selling Indian art, jewelry and dishes at Time Was for about seven years, taking over her mother's Morning Star Indian Jewelry business on Oak Street after she died in 2010.
"We have a lot of nice stuff in here. It's a long building with a lot of choices. When you have nine vendors, you have a nice selection. When a lot of people come through, something catches your eye," Van Horn said.
As Chamber of Commerce membership director, Jason Millin helped organize the vendor expo, but he also works at Black Sheep Ink tattoo shop downtown and wasn't able to spend much time at the expo.
"I was slammed. I was doing piercing after piercing," he said. "It was our best Saturday in five or six months. It was neat to see everyone shopping, to see people downtown."
More like this story