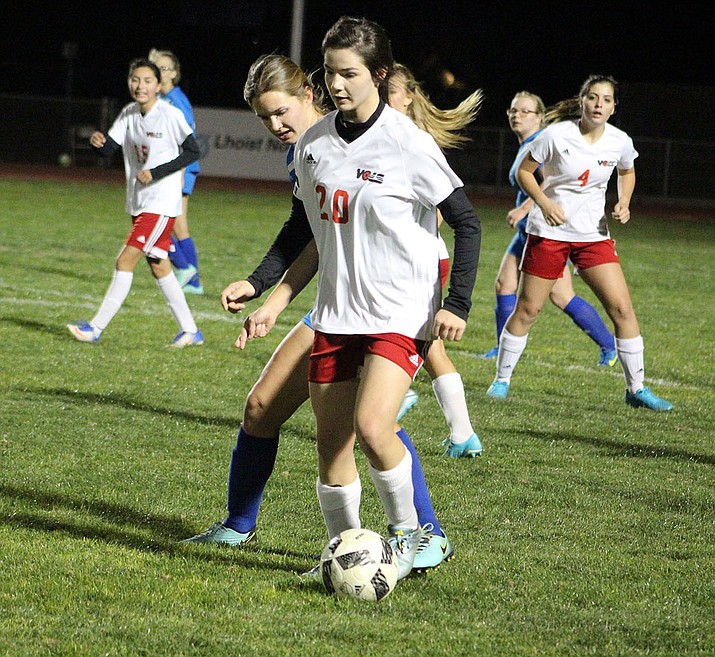 Photo by Beau Bearden.
Originally Published: November 28, 2017 10 a.m.
KINGMAN – The Kingman High School girls soccer team knew what it had to do Monday night against Lee Williams – stop Sadie Serrano. Serrano had other plans though, and the junior scored five goals to lead the Lady Volunteers to an 8-1 victory at LWHS.
Photo Gallery
Girls soccer: Kingman at Lee Williams - Nov. 27, 2017
Sadie Serrano scored five goals for the second time in her career Monday night as the Lee Williams High School girls soccer team cruised to an 8-1 win over rival Kingman High at LWHS. Photos by Beau Bearden.
"This is all I could've hoped for," Serrano said. "I love my team."
Serrano added that it was a big accomplishment, especially considering it was just the second time she's scored five goals in a game. The other time – last season against Lake Havasu, where Lee Williams head coach Chris Selby spent the last three years.
"Sadie had it going on tonight," Selby said. "She has good range."
While the story of the game was obviously Serrano, she was quick to give the Lady Vols all the praise.
"We've improved so much from last year," Serrano said. "We're working and playing as a team – we are a team now thanks to our coach."
Selby didn't take any credit though, as he said everyone did their part in a team victory. The Lady Vols demonstrated that by excelling in all areas of the game.
"Everybody did their part," Selby said. "I was proud of the defense, our goalie Audra Coffman. She was on fire back there. Our defense as unit did very good."
Coffman lived up to her coach's words as the senior made a number of great stops and allowed just one goal when Kingman's Rachel Torres found the back of the net.
"We scored one right away in the beginning of the second half and we said, 'we're getting back in this and we're going to be fine,'" said Lady Bulldogs head coach David Kopecky. "Then Sadie Serrano – she had an awesome game. Everything she touched went it. It's hard to stop that. And their goalkeeper (Audra Coffman) was excellent. She made some great stops."
Serrano scored her first two goals in a two-minute span during the first half – the first with 10:42 remaining and the second with 8:57 on the clock. Then Melissa Davis assisted Kendra Pease on a goal to give Lee Williams a 3-0 advantage at halftime.
Serrano quickly responded after Torres' goal, scoring less than a minute later to put the Lady Vols up 4-1. Lorelei Fernandez and Christina Valencia then added goals before Serrano capped off the win with her fourth and fifth goals in the final 11 minutes of action.
"I'm super proud of the girls," Selby said. "It was a great team victory. We worked hard."
While the final score didn't show it, Kingman did have a number of opportunities to get back into the game. Coffman made sure that didn't happen though.
"I haven't counted out how many shots on goal we had, but we had a lot," Kopecky said. "(Coffman) made some great saves. Every time the goalkeeper makes great saves like that, it takes the wind out of your sails."
The Lady Bulldogs return to the pitch Wednesday for a 6 p.m. contest at Lake Havasu, while the Lady Vols host River Valley at 6 p.m. Thursday.