Photo by Beau Bearden.
Originally Published: November 29, 2017 5:49 a.m.
KINGMAN – The Lee Williams High School boys soccer team quickly took control Tuesday night and never looked back in a 3-0 victory over Kingman High at KHS.
Photo Gallery
Boys soccer: Lee Williams at Kingman - Nov. 28, 2017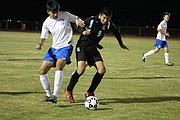 The Lee Williams High School boys soccer team opened its season Tuesday night with a 3-0 road win over rival Kingman High. Photos by Beau Bearden.
"It feels good to get the first win of the season," said Lee Williams junior Jason Arreola. "There are many more to come."
The Volunteers avenged two losses to the Bulldogs last year, but head coach Gabe Otero was quick to focus on this year.
"It's a different season. Different teams," he said. "I had all the confidence in the world. You try not to be cocky. You try to stay humble. But I have all the faith in the world in these boys. I knew we were going to be successful tonight."
Lee Williams (1-0) controlled possession in the first half and fired a number of shots on goal before Colby Robles found the back of the net in the 6th minute to put the Vols up 1-0. Then with 15:41 on the clock, Arreola took a pass from Gabriel Ortero and scored for a 2-0 advantage.
"I was happy all the way around," Coach Otero said. "… Our defensive players were getting in on the attack, our midfielders worked well. Overall, we were able to create a lot of opportunities. And that's what I'm excited for."
Kingman, meanwhile, started six freshmen and only had 13 players suit up. While the numbers weren't in the Bulldogs' favor, head coach Kevin Roberts knows they didn't capitalize on their opportunities.
"When we get those offensive chances, we need to put it in the back of the net and take advantage of their mistakes," he said.
It was the Vols who took advantage of their scoring opportunities, especially with 2:48 remaining in the game as Ryker Lauck received Gabriel Otero's corner kick and put it in the back of the net for the final tally.
Lee Williams is back in action at 6 p.m. Thursday on the road against River Valley, while Kingman (0-1) doesn't have much time to focus on the loss as it welcomes Lake Havasu to town today for a 6 p.m. contest.
"We do have a lot to work to do on the offensive end," Roberts said. "But I kept us more defensive sound as far as putting my best players in the back. We have a lot of work to do on communication, but overall they did a good job by playing defensively and continuing to hustle."