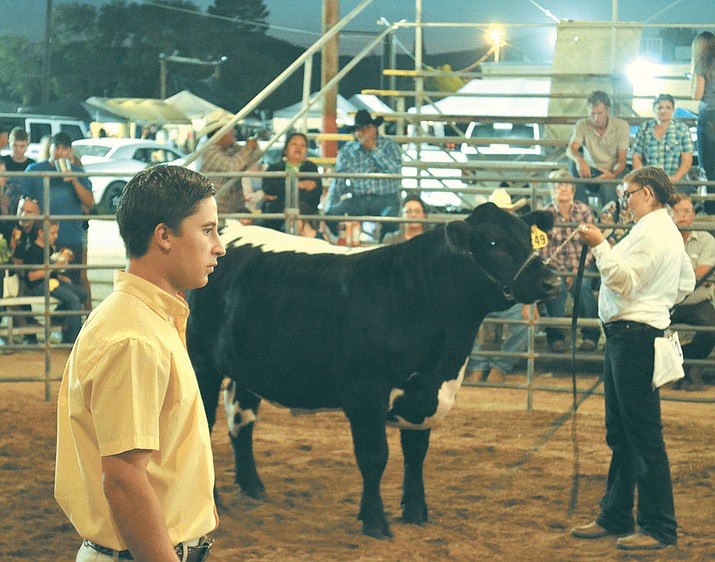 Photo by Aaron Ricca.

Originally Published: October 1, 2017 6 a.m.
There are a lot of ranches near Kingman, and they're all part of the beef lifecycle.
Andrew Brischke, agriculture and natural resources assistant agent at the University of Arizona College of Agriculture and Life Sciences Cooperative Extension, was at the Mohave County Fair's cattle auction Aug. 16 where various breeds of cows were being judged and sent through a series of stages that will ultimately lead to being on the shelves of grocery stores.
He was helping out with the 4-H Club and Mohave Livestock Association and Farm Bureau watching a show-ring judge inspecting the various cattle entries and explained what the judge was looking for. This is just the first stop in the beef lifecycle. The animal's structure in regards to where they have the meat and fat will determine the next step in the process.

"It all about the end product," Brischke said.
According to the website www.factsaboutbeef.com, a site dedicated to debunking meat myths, the beef lifecycle is a complex process where it could take 2 – 3 years from the farm to the fork. An animal will change owners several times during its life and each caretaker specializes in an area of the farm-to-fork process.
The farmers and ranchers at each stage use the diverse resources available in the geographic area. The beef community is made up of cow-calf ranches, stockers and backgrounders, livestock auction markets, feed yards and lots, and packing plants at different locations throughout the country.
Brischke doesn't have an exact tally on how many ranchers are in the Kingman area, but according to the 2012 Census of Agriculture, there are 126 cattle and calve farms in Mohave County, with a farm being any place from which $1,000 or more of agriculture products are sold.

As far as which parts of the beef lifecycle occur in Mohave County, that honor goes to cow-calf operations. The breeding, calving, and raising them as calves is a local process. The calves will also be weaned from their mothers at local ranches. Some producers in the county will buy stockers and backgrounders when the conditions are right, and then they get shipped off not to be back into Mohave County until a market can be found.

"The exception would be direct marketing their beef," Brischke said. "But I'm not sure how many producers direct market their product right now."
The economic impact on Mohave County includes all the other supporting industries such as alfalfa farms, veterinarians, vaccine vendors, and trucking companies for shipping the animals to livestock producers. Brischke said sales from cow-calve operations in Mohave County generates around $7.6 million dollars annually.
Rancher Anita Waite has been in the cattle business for 24 years and has a ranch between Wikieup and Kingman near the Hualapai Mountains.

"It's a fantastic lifestyle," she said. "There's not a lot of money in it, but we do it because we love the animals and love the land."
Waite said beef is one the top six national gross products alongside agriculture, the auto industry, and manufacturing to name a few. There are 100 different industries that depend on the beef industry including glue, makeup, leather and pet food.
"We have all these byproducts," she said. "The cow serves the country very well."
Like many other local ranchers, Waite's animals are part of the cow-calf ranching phase. The economics of ranching are complex.

"It's a business on its own," she said. "You can't put solid figures on it."
There are many factors to consider such as the size of ranch and how many calves are born a given year, how much they weigh at the various stages of their development, and even weather and drought conditions. How much money they make depends on how many cows a ranch can hold. Waite's 70,000 acres ranch is permitted up to 640. BLM regulates how many animals a ranch can have any given year.
"We can get anywhere $500 to $700 for a calf," she said. "We can get less or more depending on the year."
When her calves reach about 900 pounds, they'll be weaned and go somewhere else for the grazing stage. She doesn't get the beef from her animals, but said there are local ranchers who will raise and slaughter their own animals and sell them as grass-fed beef.
For Brischke, the benefits of the beef industry in Mohave County are plenty.

"Environmentally, the ranchers are the stewards of the land," he said, and that the Bureau of Land Management manages a lot of open space, but the individual ranchers take care it.
"The romantic view is that ranching is the iconic image of the West," Brischke added.
Economically, ranching boosts hundreds of supporting industries
"Ranching is one of the biggest industries in Arizona," he said. "It provides the food and fiber. If you don't have ranchers, you don't have steak."