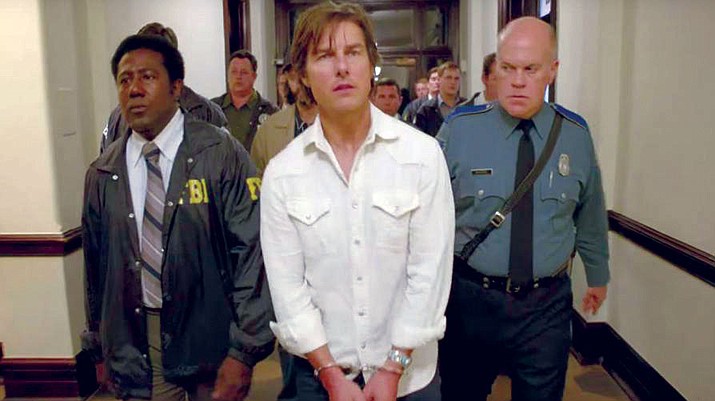 Originally Published: October 2, 2017 6:01 a.m.
It's supposed to be based on a true story. I'll get into that later. For now though you can go see a movie that will keep you wondering what is Barry Seal (Tom Cruise) going to get into next. For his part, Tom Cruise played an overly confident character much like he did in "Top Gun." Throw in some humorous one-liners and circumstances so far out in left field it becomes believable.
I can imagine the casting call for Cruise's wife. The only test being the look she gives Cruise when he tells her he's working for the CIA. Sarah Wright, as Lucy Cruise, nailed it. Wright played a believably unsophisticated, down to earth character whose concerns and reactions would mirror just about everyone's reactions. Although she played a relatively minor role, it was her demeanor, her concerns and her reactions that brought the movie home.
When Cruise is approached by an alleged CIA operative named Schafer (Domhnall Gleeson) and given a plane and a plan to photograph bad guy compounds it touches on the unreal. When was the last time the CIA asked you to do something? Given Cruise's frustration with his day to day job as an airline pilot, he jumps at the opportunity. And it turns out he's good at it.
Of course the local drug cartel learns of Cruise's exploits. They abduct him and make him an offer to fly their drugs into America. Since he's already working for the CIA he pretty much has a green light to go back and forth across the border.
Because of Cruise's success, he's loading up on bags and bags of cash. It's funny because he's running out of places to stash all of his cash. As you've probably seen in the trailers, Wright tells him the dog dug up one of his bags and there's cash all over the backyard. Cruise tells her he'll rake it up in the morning.
Gleeson makes several appearances throughout the movie, congratulating Cruise on his success, giving him two thousand acres of property with a house and an airport and expanding his role to include delivering weapons to a central American rebel group called the Sandinistas. Now we enter into historical territory of President Ronald Reagan, Colonel Oliver North and the Iran-Contra affair. All of which Cruise is involved in. For those of us that were around during those issues, we know what a hotbed they turned out to be.
The story intrigued me so much I even Googled Barry Seal to find out he did fly for the CIA and drug cartels. But as the political environment heated up the covert operations ended and any ties to Cruise were severed and denied. I believe that.
The movie is rated R and runs about 115 minutes long. You won't get bored. Sit back in the nice new seats and enjoy a large bucket of popcorn because the time goes by fast and so does the popcorn. I'll give it a strong 3 out of 4 Miners.
More like this story