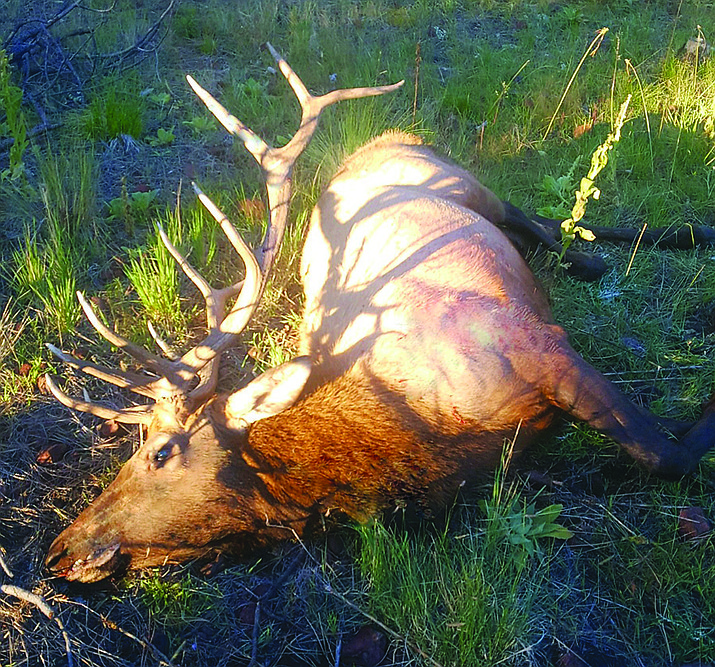 Photo by Don Martin.
Originally Published: October 3, 2017 5:50 a.m.
Ron Stephens had waited a long time for an elk tag.
He is going to be 71 on his next birthday, and like he said, "You can't wait forever!"
Stephens had been putting in for premium early bull tags and had accumulated 11 bonus points, including his Hunter Education point and his Loyalty point.
Knowing that drawing an archery bull tag in Arizona is much easier than rifle or muzzleloader tags, he decide to apply for a tag in Game Management Unit 8.
The Arizona Game and Fish Department offered 200 archery bull tags for that unit and with draw odds around 12 percent, Stephens felt good about his chances of drawing a tag this year.
Stephens had it figured right and drew in the 20 percent bonus point pass. Ron had drawn tag No. 11 out of the first 17 that would be offered to those with the most bonus points.
With a tag in hand, Stephens decided that he wanted to use the services of an outfitter and guide for his 14-day hunt.
Stephens contacted me and we struck a deal. He would be hunting with my guide Hogan Roberts, who lived in nearby Parks and knew this unit well. With Roberts on the hunt was his better half, Beth Ann Davis.
While Roberts conducted the necessary preseason scouting, Stephens practiced with his bow.
This year, the hunt figured to be a good one. After all, the hunt had been moved a week later, so the bulls should have been heavy in the rut.
While the action for the first week of the hunt was full of highs and lows, Roberts and Stephens were glad that they had another week to find a bull that Stephens would be happy with.
They got up every morning at 3:15 a.m., had their morning coffee and were out in the predawn darkness listening for the sounds of rut-crazed bulls as they bugled out challenges to other bulls and to lovesick cows that were ready to be bred.
As the hunt progressed they saw elk every day. Stephens passed on some smaller bulls and had unfortunately missed on a huge bull.
But with the hunt winding down and the bulls seemingly losing interest; things were getting more exciting every day.
Roberts found an area that held a number of bulls, including a couple of real trophies, and he was determined to get Stephens on one of them.
I had finished up with a hunt in Unit 4B where a friend of mine had a tag, so I decided to go and spend a few days with Roberts and Stephens.
We made a plan where I would go and check out an area that was reported to hold some good bulls, while Roberts, Davis and Stephens would go back to their "honey hole."
I went to the area and sure enough, right at dawn, I had a bull answering back to me from a nearby mountain.
I sent a text to Roberts advising him of what I had found. But I heard nothing back for about 20 minutes.
Then I got a text from Roberts that simply said, "We just got a bull!"
With directions in hand I headed over and met up with Roberts.
Davis and Stephens were with the bull and were starting the field dressing.
I couldn't wait to see the bull and hear the story.
Roberts told me they had heard some bulls in the honey hole and were hiking over to the spot when they actually began to see bulls chasing around cows.
Roberts stayed back to call, while Davis and Stephens moved up. One bull in particular was seemingly agitated over Roberts' calling started to move toward him.
This brought him right into a shooting lane for Stephens. With Davis telling him the range, Stephens settled in his sights on the bull and let the deadly broadhead tipped arrow fly.
The range was 52 yards and Davis had the video camera rolling. The arrow struck the bull in the left front shoulder, and he started to run off. He made it less than 100 yards before expiring.
The broadhead had done its job and the hunt was over.
Stephens was happy with what he found on the ground. The bull had 6 points on one beam and 5 on the other.
It was Stephens' first bull elk with a bow, and he was excited.
"We had just two days left and I had passed a number of bulls on the hunt," Stephens said. "I wasn't sure how many more opportunities I was going to get, so I decided to take the bull."
In the past, only about one in three archery hunters tag a bull on this hunt, so in many ways Stephens had beat the odds once again.
As Stephens put it, "That's why you hunt with a bow and arrow. You get more opportunities, but harvest less bulls than you would on a gun hunt."